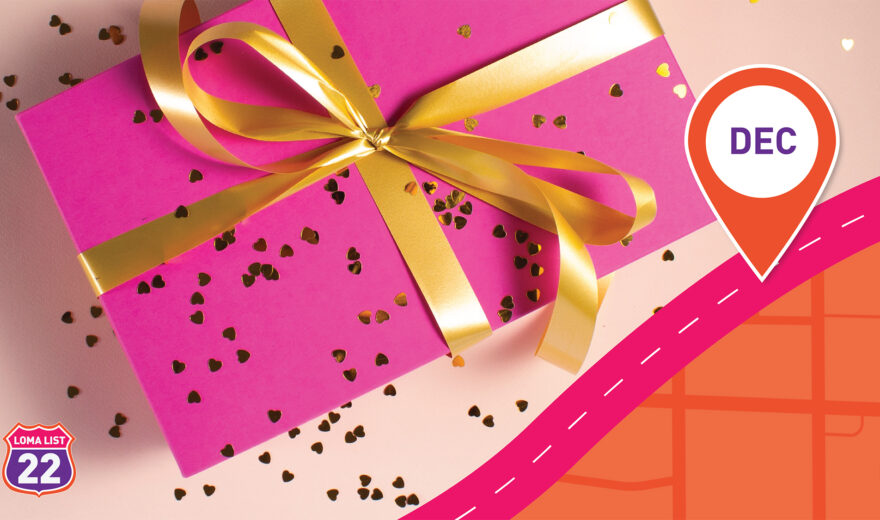 December 12, 2022
By: Angelica Dimapindan & Amy Gaskin
When the 2022 LOMA List was released in January of this year, we wanted to highlight the key shifts we anticipated seeing in the Meeting and Events Industry this year, and subsequently what these changes meant for the event planners navigating them.
As we wrap up 2022, it's time for us to look back on 2022, from our projections to the programs we executed – and all the lessons learned!
Let's revisit the 2022 LOMA List roadmap and compare it to the route we ended up navigating as our new normal emerged.
In January, we continued to monitor the COVID-19 pandemic and how it was affecting our industry, reviewing various MPI (Meeting Professionals International) resources (Summer 2021, Fall 2021) which predicted favourable business conditions throughout 2022. As such, our first post focussed on best practices and considerations for health and safety to keep in mind throughout the year for in-person events as conditions changed. Now that the year is drawing to a close, how did we do?

Masking & Testing Mandates
Gone are the days of strict masking and testing guidelines, but it is still important to focus on safety and make everyone feel at ease. With different rules in every jurisdiction, many clients chose to offer masks and rapid antigen tests at their events. By either adding wellness materials such as these and other items like hand sanitizer to swag bags or placing them at the registration and high touch areas, attendees knew where to access these items and any support they needed to focus on their wellness and increase confidence while on-site.
On-Site Screening & Wellness Support
For multi-day programs, we often hired an on-site Registered Nurse (RN) to be available to support with any health and wellness concerns. Whether it was just easing an attendee mind, or facilitating testing or even providing B12 vitamin boosters for our planning team, having an on-site wellness team was an invaluable resource that we will continue to recommend for all events going forward.
Communication is Key
Developing a healthy and safety contingency plan with your client is a simple and effective way to ensure all parties are aware of the steps to take should an emergency situation arise. We recommend establishing a priority response communication system/tree to align on procedures and expectations for various scenarios. For example, the process of disclosing a positive on-site COVID test to attendees, through pre-event communications and onsite signage, including reminders not to attend if they are feeling unwell and providing flexible cancellation policies that support.
Our next LOMA List post discussed top tips for booking the best talent for in-person or virtual events. With the emphasis this year on returning to in-person, we saw another shift in preferences and priorities for selecting talent and making the most of their presence on-site.
Here are a few of our key takeaways from the year:

Weighing the Benefits of Local  
One of the benefits of having talent appear virtually is saving on the additional fees associated with travel, accommodation, etc., of bringing a performer onsite; however, hiring in-person talent doesn't have to break the bank to deliver a memorable experience.
Sourcing talent locally offers many benefits, for example we found an incredible partner in DJ Jennie who, being based in Florida, knew our venue and was already familiar with the space and venue staff. She performed on three separate occasions for the same event, each in a different space and for a different audience, but always with a fun and engaging energy.
In other cases, clients found the extra cost completely worth it to bring in someone familiar; for example, flying in DJ StokeS from Toronto to Ottawa for the Canadian Nurses Foundation's annual fundraising event had everyone dancing the night away and was a big part of the evening's success.
Decide where your priorities are – Budget? Name recognition? Experience? – and explore your options because you never know who you might discover!
Make it Personal
Event marketers know how to create spectacular experiences but, when it comes to VIPs and programming, "S" also stands for making them feel Special.
When booking talent, have the conversation around what could be incorporated into any auxiliary programming as an extra wow factor. We have seen keynote speakers and entertainment such as Michael Phelps and Brittany Howard participate in happy hours, lunches, or meet and greets that add tremendous value to your VIPs' experience.
But wait – don't stop at auxiliary VIP programming: consider if there are ways to incorporate this kind of surprise and delight for the wider audience as well. The Great Place to Work For All Summit, for example, hosted book signings with authors like James D. White, allowing attendees to engage one on one with the speaker and get a valuable content keepsake to take home.
Draw on Your Surroundings
With attendees excited at the opportunity to travel again, we saw so much success in highlighting activities and characters unique to your event destination. At an event in Orlando, we had a surprise appearance from Mickey and Minnie Mouse and created a station where attendees could make their own mouse ears to match. This small part of the program brought a little bit of magic to differentiate the typical conference experience.
Over the last few months, our focus turned to the emerging demand for hybrid experiences; both in terms of producing hybrid events and continuing to focus on working effectively with hybrid teams.
Here are just a few of our favourite strategies that we put to the test this year, to make everyone feel included.
Remote but Connected
Some people have an LDR (Long Distance Relationship), but most people have an LDC (Long Distance Colleague) – and the LOMA team is no exception!
Since our team is spread across North America, the in-person events we support also contribute to our team-building opportunities; whether a dinner out with lots of laughs, a picnic on a hotel room floor, or a Wellness Day at the spa to celebrate a successful program, we work hard AND play hard – surprise virtual Escape Room, anyone?
Curating Equitable Experiences
Not everyone is ready to return to in-person events, others cannot travel or do not have the time to attend in-person, and we've seen a continued demand for virtual experiences to make sure no one feels like they're missing out.
One of the most common ways to offer hybrid experiences is livestreaming sessions – but production value plays an important role in offering seamless experiences for those joining remotely. For Coconut Software's employee retreat, we worked closely with the venue AV team to offer multiple camera angles, microphones, and a designated Zoom tech to watch the stream, incorporate Q&A from virtual attendees and make sure audio and video elements were clear and in a high-quality format.
Leveraging Mailers
In May, we discussed digital and physical mailer options, which continued to be a popular way to offer reach remote audiences. 
We saw mailers used in a few different ways, whether as campaigns for all attendees, or targeted programs for virtual audiences only. The latter often had curated activity packages delivered alongside specialized experiences from sushi making to wine tasting. One event used a chocolate tasting from experience provider Wavy, as an opportunity for their remote team members to connect, while a sales session hosted a tea tasting with tea sommelier Katie Cyr of Monarch Tea Co., to network with prospective clients.
No matter the purpose, mailers consistently make audiences feel special and go above and beyond in bridging the gap between the virtual and physical.
Finally, we took a look at the food and beverage part of events, exploring how new health and safety recommendations combined with ever-evolving dietary requirements and the ongoing importance of sustainability and mindfulness in menu planning.
Here are just a few things our team noticed this year when it came to F&B:
Ongoing Staff Shortages
With staffing issues continuing to affect the hospitality industry, it is more important than ever to over-communicate with your venue/hotel staff and, where possible, allow yourself additional buffer time to respond to any unforeseen circumstances – hello, Hurricane Ian!
From delays in response time in the pre-planning stage, to additional communication challenges on-site such as ensuring dietary restrictions and allergens are accurately labelled, extra vigilance is imperative in the current climate to ensure the attendee event experience doesn't suffer.
Provide Outdoor Seating Options
Where possible, allow attendees to have the option to eat their meal outdoors. Many clients took advantage of the opportunity highlighting local food trucks at a reception or welcome events to get everyone mingling in outdoor parks, plazas, etc. When the weather allows, not only is this an opportunity to mix up the standard hotel fare but allows attendees a welcome breath of fresh air and change of scenery amidst a packed agenda.
Sustainability is Here to Stay
This year, creating a sustainable menu also meant offering an inclusive one, as we saw more and more attendees demanding plant-based options, even those without dietary/allergy restrictions.
This is no longer a trend but the future. Incorporating meat alternatives and vegetarian options into your standard menu limits food waste, can lower costs, and ensure that there's something for everyone…plus its better for the planet!
Wrap Up
What a year it has been! Our team at LOMA Agency would like to express how grateful we are for a wonderful year full of events, virtual, in-person and everything in between!
Getting to be together with clients, seeing the excitement of attendees as we brought programs to life, we have so much to appreciate about our industry and what we've overcome these last few years.
This year was one of learning and re-learning – the road was a bumpy one, but thanks to our amazing clients and partners we were able to navigate it successfully.
2023 is just around the corner and we look forward to a new year, new journey all the exciting events ahead.