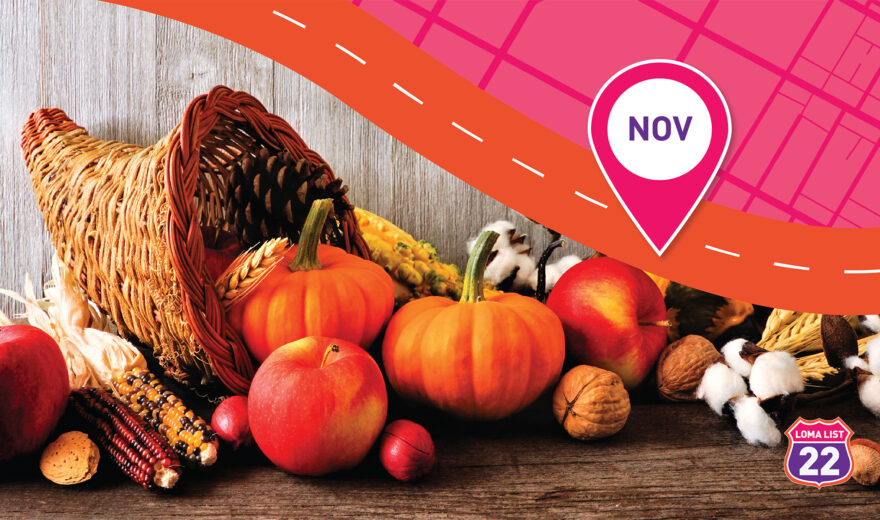 November 23, 2022
Moments of Gratitude That Last All Year 
By: Mari Lucco
Calendars are full, countdowns to the next holiday are in full swing, and the rush to hit 2022 goals are here. As we reflect and embark on a month of gratitude, there is a lot to be grateful for.
Here are a few things we are grateful for at LOMA Agency:
First and foremost, our clients:
Our clients allow us to do what we love each and every day. Each day when we log-in we know we are partnering with organizations that are doing incredible work. We feel so fortunate to play a role in so many exciting initiatives that involve us creating strategic creative experiences.
This past year, we have continued to focus on creating moments to remember. Oftentimes, we use the location of the event to inspire the unique moments we create for attendees. For example, in May, Lever hosted their annual employee retreat Converge in San Diego, so we leveraged the opportunity and attendees were able to participate in whale watching during a choose your own adventure afternoon. While 7Shifts was attending the National Restaurant Association tradeshow in Chicago, we supported an offsite VIP event which was hosted at the iconic Wrigley Field offering a behind the scenes tour and an in-game experience. Lastly, just last month we supported the Great Place to Work® team on their For AllTM Summit in Orlando, where we added a little Disney magic by having Mickey and Minnie stop by the social event for a photo op that had attendees with big grins traveling back to their childhood.
Flexibility: 
It is obvious that over the last 22 months everyone has had to learn new skills while adapting to our 'new normal'. At LOMA Agency, we had to learn the best way to implement and support virtual event technology and create virtual experiences that were personal, engaging, and fun. It has also been important to create a sense of community at virtual events. This past September, the Park People Conference found a simple way to encourage attendees to network and have two-way conversations by leveraging virtual lounges after presentations, creating a comforting place for organic conversation. Another virtual event earlier this year that we ensured had personal and engaging moments, was part of a three-part event series hosted by Nudge – Spilling the tea with Deskless trailblazers. This virtual event started with an activity, a chocolate and tea tasting hosted by Monarch Tea Co., then moved into a panel conversation led by C-Suite leaders who discussed the current challenges facing frontline workers.
Virtual events are here to stay now complimenting in-person events with a hybrid strategy, and they have challenged us to become more flexible and thoughtful in our planning and execution. Looking back on the multiple virtual events we have produced in 2022, we are grateful for our ability to be agile and will continue to bring that energy into hybrid events moving forward in 2023 and beyond.
Colleagues that bring out the best in each other:
At LOMA Agency, we are fortunate to have a team full of wise, fun, creative and supportive teammates. Each Monday with coffee or tea in hand, we meet for our weekly kick-off that is the perfect balance of productivity and laughter. This is the perfect start to the week as we get to see each other first thing in the morning, catch up on our weekends, and share updates on various projects.
It is scheduled as a meeting, but it is so much more. It is time where we share happy moments, brainstorm solutions to roadblocks, and get to see all our projects progress forward, together. It may sound cliché, but at LOMA Agency there really is no I in team. Each event we plan we work together. When one person's workload is heavy others step in and support, and because of that we are better for it.
Being surrounded by colleagues that bring you joy is special and being surrounded by a team that brings out the best in one another is certainly something to be grateful for.
In-person events are back:
In-person events are back, and we are so excited to be in full execution mode.
The magic of event days- the set-up, tear down, seeing people smiling and mingling, your Apple Watch clocking 20,000 steps from all the hustle and bustle. After months of building a roadmap to the event and collaborating with caterers, venues, florists, entertainers, A/V and many other supplies, the event arrives. This is the moment where we get to witness how big and small decisions along the planning process leads to creating incredible moments and experiences for attendees.
After nearly two years without in-person events, being together again IRL (In Real Life) is AMAZING!
Simple ways to practice gratitude year-round:
For some reason it seems like the year passes us by, but November is a time for reflection and reminds us of how fortunate we are.
However, why only focus on gratitude during the month of November? Here are a few simple ways to practice gratitude year-round.
Each morning when you wake up say one thing you are grateful for out loud
Each evening, write down 3 things you are grateful for
At the end of the week, write a short sentence on what brought you joy that week
Meditate and reflect on your life regularly
Vocalize your gratitude and appreciation to someone in your life.
We are grateful for our community and appreciate you taking the time to read our blog. Please share what you are grateful for and tag us @loma_agency.