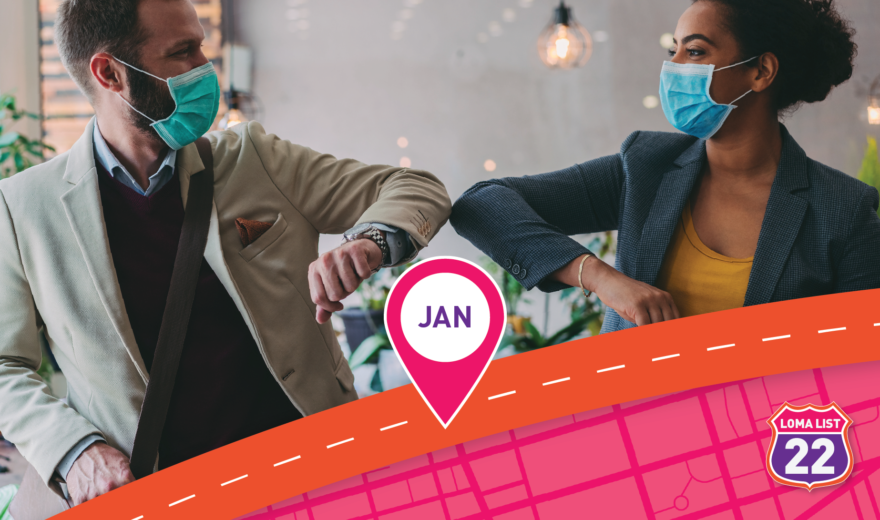 January 26, 2022
By: Kurt Mungal
Earlier this month we shared our executive summary for the LOMA List 2022: Navigating the Next Normal, which featured findings from the MPI Summer 2021 Meetings Outlook Report where 93% of respondents were anticipating favourable business conditions in the coming year. However, at the time, we also noted that the report was released before the emergence of the COVID-19 Delta and Omicron variants. 
By the end of 2021, many parts of North America reverted to varying degrees of lockdown measures. But now, as we embark into 2022, with vaccination rates on the rise and signs of the virus becoming endemic, it's reasonable to presume that by early Spring/Summer we may see restrictions ease once again, and attendees, planners, and businesses move forward with plans to gather once again. This is further reinforced by the more recent MPI Fall 2021 Meetings Outlook Report, with 79% of respondents expecting favorable business conditions in the year ahead.
Therefore, it is our opinion that planners should use this moment of pause to build and/or update a toolkit of policies and best practices that will allow them to plan and meet in-person safely when the time is right. That's why for the January stop on the LOMA List, we'd like to share a checklist of the top 10 health & safety considerations event planners should keep top of mind.
Before we dive in, it's important that any toolkit planners devise remain in compliance with the CDC Guidance for Organizing Large Events and Gatherings and/or the Government of Canada's COVID-19: Advice for gatherings, events and celebrations. As we know all too well by this point, recommendations and best practices can change daily, so be sure to stay up to date on the measures provided by your region's health experts.
In September 2021, with restrictions on gathering indoors easing and vaccination rates on the rise, the LOMA Agency team had the opportunity to partner with our client, Achievers, to successfully plan and launch an office grand opening event. This in-person experience, our first in almost 18 months, galvanized us to develop our own toolkit, which informed the checklist below.
Establish a Duty of Care and/or Code of Conduct
A duty of care refers to the commitment that you and/or your organization must reasonably watch out (or care) for others within certain standards. Any acts outside of these standards is considered negligent, so it's important when developing a duty of care for your event that you are thorough and specific. It should also include all the items included in this checklist. For an example of how other organizations have communicated their own duty of care, check out the 2020 MPI World Education Congress and the CES 2022 Health Protocols summary.
Proof of Vaccination
When including a proof of vaccination requirement, it's important to reference clear guidelines for what is admissible and what is not. For example: what is acceptable for domestic vs. international attendees? Will your organization accept a negative test result in lieu of vaccination? Other considerations for requiring proof of vaccination for live events can be found here. For a list of vaccines approved by the World Health Organization (WHO) click here.
As one might expect, when it comes to disclosing personal and health-related information, some individuals may be wary. It's important that organizers familiarize themselves with key privacy considerations when requesting a proof of vaccination. To help get you started, you can review this helpful document from the Canadian Centre for Occupational Health & Safety, as well as this FAQ on COVID-19 and HIPAA.
Screening and Testing
If you plan to require attendees/staff/vendors to test and submit a negative test result to gain access to your event, be sure you specify which tests are permitted. Typically tests would fall into one of two categories: viral tests and antibody tests. Antibody tests aren't ideal for determining if someone is currently infected with COVID-19, but rather if they already have the antibodies–likely from a previous infection. A viral test, which includes at-home rapid tests, can be conducted anywhere and provide quicker results. As you may have seen in the duty of care example from CES, the organizers have developed a process for conducting on-site testing courtesy of rapid test manufacturer Abbott. In the last two years, more and more manufacturers have surfaced with on-site testing options for live events including Switch Health, Azova, Inspire Diagnostics, and Event Scan. Find the vendor that suits your event needs and develop a process that is simple and accessible. Additionally, be sure that you specify if any costs associated with testing are the responsibility of the individual or the event organizer.
To learn more about testing types and accessibility options, click here for US attendees and here for Canadian attendees.
Mask Mandates
The CDC maintains that masks are an effective tool to stop the spread of the virus among large groups. Be sure to include when masks are required, and in some cases, what type of mask. If you're unsure what to suggest, start with your destination city and venue. Mask mandates may vary by state or province and can help inform your decision. Similarly, your chosen venue may have their own protocols to be followed and will help determine what your guests can and cannot do. Whatever the result, remember that masks can also be a fun brandable moment for your event, as well as a safety precaution.
Venue Relations
Even before the spread of COVID-19, your event venue plays an important role in the success of your event and the well-being of your audience. In this 'new normal', planners should be re-examining contracts to ensure they are better protected against a broader scope of circumstances, and that the venue is accountable for supporting your duty of care by enforcing things like social distancing, sanitation, and providing better air filtration. Other clauses worth reviewing include force majeure, attrition, rebooking and cancellation. Hospitality attorney Jonathan Howe addresses these more in-depth here.
Vendor Screening
As with your attendees, it's important to put forth a mandate for your vendors of what is expected of them in terms of proof of vaccination or providing negative test results. In the MPI Fall 2021 Meetings Outlook Report, the number of respondents who said that their organization requires all staff to be vaccinated from COVID-19 increased from 19% in the Spring to 47% this past Fall. Because we know policies may vary between businesses, be sure to communicate your expectations clearly to your vendors early in the planning process to determine if your organizational policies align so that you're not left scrambling for a replacement at the eleventh hour.
Social Distancing
As mentioned under Venue Relations, planners should work with their venue to ensure social distancing measures are not only established but enforced. In fact, your venue's commitment to these measures should be considered in your selection process. This may include, but is not limited to, things like one-directional paths, wider aisles and walkways, reduced room capacities, touchless check-ins, and increased airflow and filtration.
Of course, over the course of the year, we may see restrictions ease further and some of the policies required for events in Q1 may not be required for events in Q3. By staying up to date with both your regional health experts, as well as the guidelines and protocols of your venue, you can ensure that you're always doing what's best for your attendees. To take it one step further, you can give your audience autonomy over their own safety by establishing a colour-coded lanyard system where different colours reflect their comfort with engagement. For example: green means "I'm comfortable standing close," yellow means "High-fives and fist bumps only," and red means "I prefer to keep a safe distance."
Food and Beverage Service
Establishing healthy practices for food and beverage service is vital. This may include things such as staggering service and including boxed meals to go like we did with our Achievers event. Challenge your venue or caterer to design a process that meets the specific needs of your audience and event, and follow up on-site to ensure it's put into practice. For more great ideas on how others have adapted food service in 2020 and beyond, click here.
Sanitation
By this point in the pandemic, providing ample and adequate sanitation in public spaces goes without saying. Remember that, as with masks, hand sanitizers can be brandable moments for your event, and an easy (and useful!) addition to any swag kit. Talk to your venue about what their plan for sanitation is, how it will be made accessible, how it will be enforced, and who will be your primary contact for any issues or concerns you may have during your event(s).
Communication
Finally, and arguably most importantly: communicate, communicate, communicate. A thorough and comprehensive set of protocols and practices is great, but it's useless if it's not communicated effectively. Be sure that you're making this document available to your attendees, your vendors, your staff, and all other stakeholders before, during and after your event; and if necessary, request written acknowledgement as well.
In September 2021, Live Nation president, Joe Berchtold, predicted that live event attendance will be bigger in 2022 than in 2019, based on growing ticket sales for concerts and events. And though it's been a less-than-stellar start to the year, we have a much greater chance for recovery than we did two years ago.
Someone once called January the Mondays of months. But the thing about Mondays, like any day, month or season—is that they pass. Time moves forward, and for those who are fortunate enough to adapt, and are open to growth and change, they move forward too. The events industry is no different; while things have been stagnant and uncertain, rest assured that the next few months will bring hope and optimism once again.