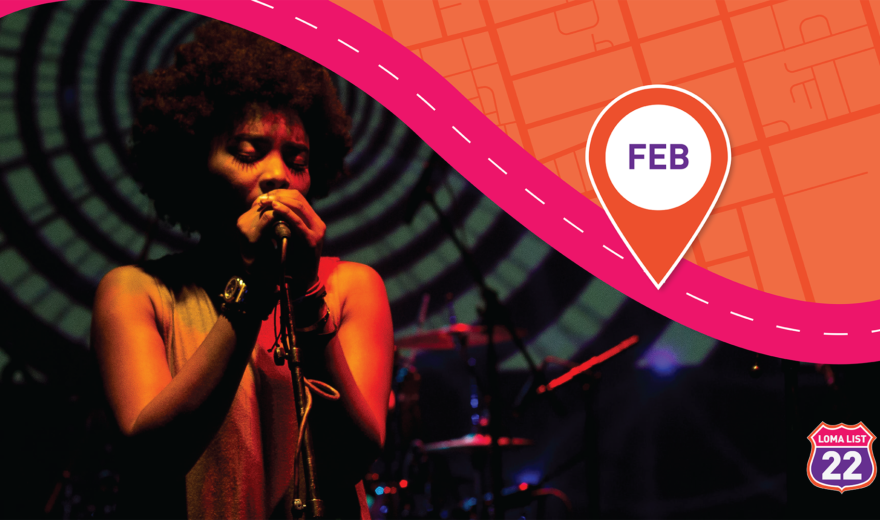 February 23, 2022
Booking Talent You Love: Our Be-List for Booking the A-List!
By: Kurt Mungal
It's no secret that the live events industry took a major hit following the outbreak of a global pandemic in 2020 that continues to impact us today. But if we had to find just a few glimmers of a silver lining, one of them would be that some of the biggest names in entertainment—be it movies, TV, sports, music, and even politics—were that much closer within reach (and within budget). 
With an industry-wide pivot to online experiences, virtual performances (sometimes pre-recorded) and appearances from A-list talent became the norm for some, and it's not surprising. Without having to cover airfare, accommodations, riders, and other miscellaneous expenses, organizers could stretch budgets to get a big name that would excite audiences and drive attendance. And we were no exception.
Booking exceptional and highly sought-after talent isn't new for us. Prior to COVID-19 our team has worked with some of the biggest names around, including Melissa Ethridge and Bethenny Frankel. But for some, it may be the first time you've been given the green light to hire a well known personality, and when it comes to bringing in the A-listers, the institutions, the household names, and the icons—we have learned that the chase is just as important as the catch.
No matter what letter of the alphabet your talent hails from, booking talent is a process, and often involves connecting with multiple representatives before a contract is signed. At LOMA Agency, whether for virtual or in-person events, we've taken just about every path there is when it comes to sourcing talent, and in this post, we'll share what's worked well as well as tips for what you might want to avoid before you book your next big act.
Ready to go A-list? Then be mindful of the "Be" list.
Be Specific
We all know events are about ideating. Creativity drives us and logistics ground us. When you're approaching a talent management firm about an upcoming event, it's all about balancing the two. It's perfectly fine not to have all the details, but to be given any meaningful assistance (and to be taken seriously), you're going to need to provide some specifics.
Here are a few questions you should ask yourself (or your client) before reaching out to a talent agent:
What is your budget?
A range is fine if you can't provide an exact figure, but don't expect to get very far if your response to the budget question is, "We'd like to see a few options first and then we'll decide on budget." For one thing, it doesn't give an agent confidence that you're seriously looking. For another, you may be missing out on great options that they would have initially put in front of you if the budget was clear from the start.
All 5 Ws (Who? What? Where? When? Why?)
Much like providing a budget, when it comes to answering the 5 Ws, a range is fine. It's not about knowing the exact name of who you want and having your entire event agenda ready to share, it's about setting parameters so that management teams have something to work from and can narrow down their roster of talent to a few options that will best suit your needs. Here are some examples of what you might respond with for each W:
Who? An athlete or comedian who will appeal to a corporate audience of mainly millennials
What? A 30 minute keynote presentation covering themes such as resilience, leadership and teamwork
Where? A virtual event to be hosted on (insert platform here) OR a hotel or conference centre in downtown (insert city name)
When? The morning of June 2. (Note: give an exact date to ensure you are only provided with options who are available, but depending on how far out your event is, a simple morning/afternoon/evening will suffice– and don't forget to specify time zone).
Why? Our client is a sports apparel manufacturer that will be celebrating employees with a one-day event, and we would like to secure a keynote that will generate excitement and motivate our guests.
What is your timeline?
Other than your planned event date, we recommend communicating a few key milestones that will help to manage the expectations of those involved. For example, if you're requesting a short list of options that are based on your budget and the parameters set by your 5 Ws, let everyone know when you will be presenting your options, by what date you will be requesting feedback, and by what date you will be back in touch with either a decision or additional information for a revised short list.
Be Realistic
As in-person events and hybrid experiences make their return, some may be tempted to allocate less budget and fewer resources to the talent designated for their event's virtual components.
A common misconception about virtual events is that because everything is online, an event can be done more quickly and easily. However, anyone who's adapted an in-person event to virtual or launched a virtual event from scratch in the last two years will tell you otherwise. There seems to be a similar misconception that because an appearance or performance is facilitated online, talent is less expensive or is more readily available.
While it's true that your budget may go further virtually due to the elimination of things like travel, accommodations, riders, technical equipment, and other related expenses, it's important to remember that recognizable names still come with a price tag that reflects their notoriety. There are also still team members and third-parties involved to factor into their fee, and none of these things disappear just because your event is taking place virtually.
This remains true, even if you or your client are not-for-profit. Sometimes, the assumption is that it's just a "simple" ask (e.g., recording a brief performance or remarks) and that it's for a good cause, so why wouldn't there be a reduced or discounted fee? The simple answer is that a support team, resources, time, and specific expertise are usually still required in order for the final product to be executed well. The value of a well-executed and produced appearance cannot be underestimated.
Another factor to consider is availability. More in-person and hybrid experiences also mean more travel, and talent availability may be scarce at times. Always aim to have at least two back-up options in addition to your top pick in case scheduling becomes an issue. You may also want to consider having those back-ups be at a slightly lower price point to offset any costs you may incur for making last minute changes to your program's marketing and promotional materials.
Be Persistent
When it comes to chasing after big names, the unfortunate reality is that you're likely not the only one. In fact, there are probably dozens (maybe hundreds) of requests just like yours being vetted by only a handful of people, or in some cases, just one person. With this in mind, it's easy to understand why your request may get lost, why some of the details you provide may get lost in translation, or at worst, why you may not hear back at all.
Keep chasing.
Rest assured that no agent is willfully ignoring you (unless of course you've ignored all our recommendations so far and are no longer being considered as a genuine opportunity), but they are selective with requests and invitations. It's up to you to be persistent until you get the information that you are looking for.
Be Flexible
As you make progress and narrow in on your preferred talent, and especially after you've decided on someone, next you will enter the contracting phase. Depending on the overall fee, you may decide to negotiate a few "extras" in addition to the main performance. For example, you might request that your talent help market your event via their social channels, provide gifts or signed merchandise to be used as a prize or giveaway for attendees, sit for pre- or post-event interviews, or be available for a VIP meet and greet.
If the person or persons you have selected meet your criteria and you feel strongly that they are the right addition to the event overall, then the key here is to keep an open mind and be flexible with your additional asks. There may be other contractual agreements that they are bound to that limit how above and beyond they can go for you, but there may also be alternative solutions that you could agree upon instead. For example, perhaps your chosen talent can't promote your event on their social channels. Ask instead if they'd be willing to add-on a brief recording announcing their appearance at the event that you can include in your digital communications. It's a great way to generate excitement among your attendees and encourage word-of-mouth promotion in lieu of a more formalized social post.
Be Prepared
The good news is that the most important element of booking A-list talent is something you're probably already great at—after all, what type of planner would you be if you weren't always prepared with plans A through Z?
When it comes to booking talent, be prepared for anything to happen–because it usually does. Here are three ways you can ensure you're covering all bases while protecting yourself, your client, the event, and your headlining act:
Get it in Writing:
As we discussed earlier, your partnership with your performer may extend beyond the main event if you've successfully negotiated a few add-ons.
Once the deliverables are determined by both parties, ensure everything is included in your contract very specifically, and nothing is left open to interpretation. Examples include:
Social Posts: Include how many, which channels, and by what date. Bonus if you can align on the content, message, or overall tone.
Media: How many, which outlets, key messaging, etc.
Supplemental Materials: Material types (e.g. headshots), file formats, distribution rules, approval requirements and due dates, expiration dates, etc.
Have a Key Point of Contact:
Depending on which channel you navigated to secure your talent, you'll likely be connected to someone who is closer to your talent, such as their manager, an assistant, publicist, or even a relative, to act as the main point of contact for all logistics such as scheduling calls and ensuring they meet their deliverables.
It's important to establish who this person is up front and receive confirmation from them directly that they will be the point of contact for your talent. This person will be a key liaison as your planning progresses and as you book rehearsals, follow-up on any content or materials you're waiting on, and seek approval from the talent's camp on any marketing and promotional materials you may be developing as part of the event.
Rehearse, Record, Repeat (if necessary):
One of the benefits of working with A-list talent is that they've likely seen and done it all. They're pros, and just like you, they know how to adapt and problem-solve on the fly. But just because everyone in the room is an expert, doesn't mean they don't need practice. Whether your event is in-person or virtual, do not skimp on a rehearsal meeting. Take your talent through your run of show, have them practice their tech (if applicable) and leave space for asking questions or making changes on the fly.
For your virtual events, it would be wise to request a backup recording of your performer in action, which you can switch to on the fly on the day of in the event of a technical or personal emergency. This could prevent you from being left scrambling to fill a significant gap in your program.
For both live and virtual events, practice as many times as you or the talent needs or as many times as your contract allows. You've likely spent significant budget on this portion of your program and built up this moment in your marketing and promotional materials, so best to cross all your t's and dot all your i's to yield an exceptional experience.
And there you have it—a few simple steps that will help to ensure your next headlining act is a showstopper. Have any of these worked for you in the past? Or is there something else you'd add to this list?
Get in touch with us on Instagram and Twitter @loma_agency and let us know your thoughts! And if you're looking to book talent of your own, need suggestions, or want us to put our best practices into motion for you, reach out to us at info@lomaagency.com so we can help.