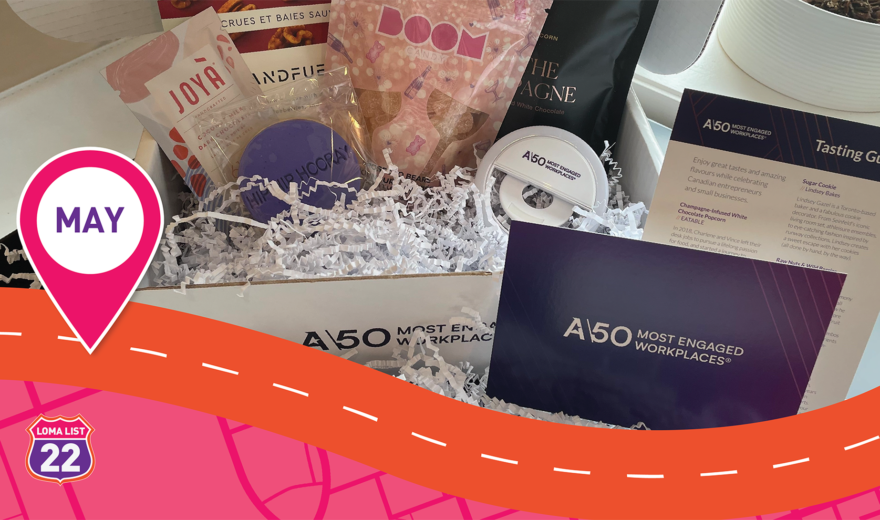 May 17, 2022
By: Kurt Mungal
If you've designed, executed, or simply attended a virtual or hybrid event in the last two and a half years, you've likely been the recipient of a mailer. A mailer can be a physical or a digital gift or package, usually sent before an event, but sometimes after, as a means of bringing the event experience into your home.
At LOMA Agency, we believe that for an event to be truly hybrid in 2022 and beyond, both the virtual and in-person experiences need to be treated equally in terms of the care, creativity, and attention we dedicate to them as planners. More importantly, for a hybrid event to be successful, these separate experiences should be cohesive in the eyes of your audience—no matter where they are. A well-executed, curated mailer is a great way to deliver on that commitment to cohesion.
Whether your next event is virtual, in-person, or hybrid, here are just some of the benefits of incorporating mailers as a line item in your budget:
Inclusiveness
For all its challenges, the transition from in-person events to virtual experiences did have the benefit of making certain events more accessible. Without the limitations of travel, accommodations, and many other associated fees, audiences can attend more events for the first time, from the comfort of their homes.
Looking ahead, you can expect that a portion of your audience will continue to access your events remotely if travel and certain costs remain a barrier to them. Providing them with the same mailer/gift that your in-person audience receives is a great way to make them feel included and part of the experience.
Consistency
When it comes to creating consistency between the in-person and virtual components of your event, the idea isn't to make these experiences the same, because they will never be the same. But they can be similar in intention and results; and the addition of a physical mailer can act as a bridge between these two worlds. For example, if your hybrid event includes a cocktail reception, why not send your remote guests their own mini-cocktail kit and livestream the DJ's playlist so they can enjoy it as well? This way your remote audience is also provided with an opportunity to unwind and relax after a long day. Or send your attendees a coffee kit and stream your morning keynote so they can enjoy a hot cup of joe along with the in-person audience. Again, the key is creating a consistent tone and experience, even if it's not identical.
Personalization
We are all familiar with what it's like to receive a generic email or promotional package from a company or brand. Those are the items that tend to get lost in spam or placed in junk; and if they do make their way to your primary inbox, they're unlikely to be opened. The same thing goes for gifts and mailers. If you send your recipients generic swag or promotional items without personalization, you risk wasting your money, and you've potentially lost out on a valuable touchpoint opportunity.
Mailers are primed for personalization because you're already sending to a specific recipient. Why not also include a personalized note or card? Or if we consider the cocktail example above, why not ask at registration if any of your guests prefer a non-alcoholic beverage to enjoy instead? Showing your audience that you've taken the time to consider their needs and preferences increase the odds they'll remember the experience and return in the future.
Sales Enablement
It can be very difficult to measure the ROI of a live event but we know that events play a key role for many comprehensive sales and marketing plans.
A post-event mailer allows you to not only keep the conversation going, but to track any follow-up meetings between customers or prospects and your sales team. Perhaps your mailer includes a personalized note from a direct contact at your organization or a member of your leadership team, with an exclusive offer as a thank you for their participation at your event.
Whatever your method, a well thought-out mailer, sent in a timely manner post-event, is a simple yet effective way to remind your audience that the event may be over, but your relationship building continues.
Now that we've covered some of the benefits of incorporating a curated mailer into your next event, there are a few key items you will want to keep in mind to make the most of the experience.
Budget
This is an obvious one. Of course, you'll want to keep your budget front and centre when it comes to planning any gifting/mailer experience. When it comes to mailers, it's important to think beyond the individual item itself. Gift boxes, labels, stickers, even tissue paper, all come at an added cost. In addition, your vendor may charge a fee for kit assembly. All of this is likely exclusive of shipping, taxes, and any "extras" such as branding (more on that next). The point is to plan for all the added costs.
Customization
It is possible that you may be used to only accounting for branding on the individual item you are gifting. However, in a mailer, there are many opportunities for a brand to be represented, and we don't just mean your logo. Is sustainability a core value at your company? If so, you'll want to ensure all of your packaging is biodegradable or recyclable to align with your company values. Or perhaps the contents are sourced from local businesses in the communities of your customers to show your commitment to them. Then, of course, you have to consider where a logo might go. Having branding on the box itself is a great way to stand out, but can also be more expensive, so you might opt for just a branded card tucked into the package instead. Whatever you choose, always ensure that your brand is the focus, just as you would at an onsite event.
Themes
Connecting your mailer to an event theme is always fun. Sometimes a theme can be very explicit, like being inspired by a place or decade. You could have a Mardi Gras themed event and include beads and king cakes in your mailer, or a 1920s Great Gatsby themed event and include a mini bottle of sparkling wine. Other times, a theme is more about a message; it could be about leading with empathy or rewarding excellence within an organization. If you're stuck on what to include in your mailer, focus on your event's key messages. You'll be amazed at the inspiration you can find when you intentionally connect your message to your mailer.
Audience
It's important to remember that not all mailers have to be created equally. An obvious example would be your VIP audience. These recipients may not only receive a more premium gift, but perhaps the packaging in which they receive that gift is elevated as well. Outside of VIPs, your event may separate audiences into tracks such as by discipline or training path. If that's the case, consider having different mailers for each group that enhances their experience in some way. This is a great way to amplify personalization based on attendee persona.
International Shipping
If you think you'd like to ship internationally, particularly for the first time, leave yourself plenty of time. Shipping to international markets doesn't just require extra time due to distance, but packages are often held at customs for a variety of reasons—sometimes for days, or even weeks. To avoid delays, let your swag and/or gifting vendor know which markets you intend to ship to from the very beginning so they can ensure they do not present items that will be prohibited in those markets. Additionally, confirm that your vendor has a broker that will be able to manage any custom delays that may still arise and avoid any duties charges being passed on to your recipient. And finally, give yourself extra time to ship to these markets—even if it means your mailer shows up a few days in advance of your event.
Waste-Free
Finally, don't be afraid to think outside the box—literally. A physical mailer may not be appropriate for your attendees or brand. As mentioned above, many companies have moved to a more sustainable practice and are opting to create waste-free events. That's fantastic! If this is you, consider sending a digital "mailer" instead that includes an offer that is experiential and/or part of a give back experience. These gifts are not only just as impactful, but they're also a great way to reinforce company values and partnerships, and cut-down on shipping charges and logistics.
Have you sent or received any mailers of your own? We'd love to see them! Connect with us @loma_agency and let us know what some of your favourites are and why.