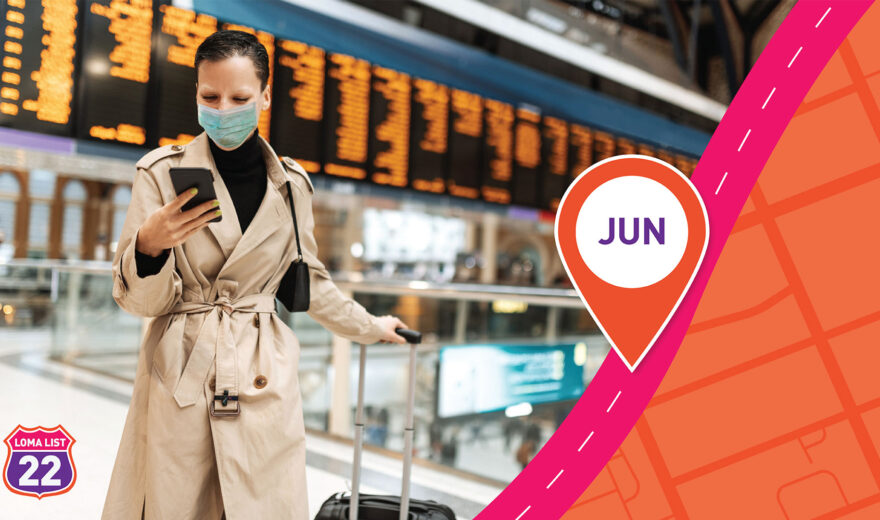 June 15, 2022
By: Yana Verbitskaia
Wearing a mask and social distancing are generally easy rules to follow, until you find yourself run-down and exhausted in an airport terminal, surrounded by eager travellers all breathing down your neck in a miles-long security checkpoint line.
When the COVID-19 pandemic first hit, travel restrictions kept most of the world from getting on planes. Those who were able to travel, however, were faced with a wide range of requirements depending on the airline they were flying, the country (or state) they were visiting, and their personal health status.
Slowly, as borders started to re-open, there was a big focus on sanitization and keeping travellers a safe distance apart. But as flights filled up to pre-pandemic levels, those restrictions started to relax, too. This puts more of the onus on the individual to ensure they are travelling as safely as possible. And it only gets more complicated as an event planner trying to bring a group of global attendees together for an event.
If you find yourself faced with this responsibility—fear not. We have compiled a brief checklist of things for your attendees (and you) to consider when it comes to travel after a global pandemic. Make sure to over communicate with your guests to ensure that they are well-prepared to attend your event and avoid any unexpected hiccups as they make their way to the destination.
Before we begin, note that there are important considerations for both travelling to your destination and returning to your home country. It may be helpful to consider country-specific restrictions while you are in the destination selection process to see if there are any additional requirements you need to add to the checklist below.
Masking Restrictions
Is a mask required on your flight?
Does it have to be a certain kind of mask (for example, an N95)?
Will the airline provide extra masks in case yours is damaged or soiled?
Travel Insurance
Does your travel insurance policy cover you for medical expenses in case you become ill and/or infected with COVID-19?
Will it cover any flight rebooking fees and additional accommodations you may require until you are well enough to fly home?
Vaccination Requirements
Is proof of vaccination required for your airline?
Is proof of vaccination required for your destination country?
Which specific vaccines (and how many doses) are acceptable?
Testing Requirements
Is proof of a negative test required for your airline?
Is proof of a negative test required for your destination country?
Is a past positive test result an acceptable substitution?
What kind of test(s) are acceptable (the most common are PCR and Rapid Antigen tests, but there are many available options)?
Submitting Documents
What kind of proof do you need? Are both digital and paper copies acceptable?
When and how do you submit your documentation for approval?
What are the airline's rules around rebooking in case of a positive test result?
The bottom line? Make sure that your attendees check (and double check) with their airline and the destination's government regulations to make sure they are up to date on exactly what's required of them before they hop on that flight or potentially get held up at their departure airport.
On event day, you can (hopefully) let out a big sigh of relief as your guests arrive safely. But the safety measures don't stop there. There is an intrinsic level of risk when bringing together any group of people, let alone one made up of folks travelling in from around the country or around the world. As event planners, it is one of our chief responsibilities to manage and mitigate risk. So what can we do onsite to ensure that people continue to stay safe and healthy after they've arrived?
Here are a couple of things we at LOMA Agency have implemented that have been successful at not only addressing risk, but also providing peace of mind for our clients, their stakeholders, and event attendees.
Event Attendance Requirements
Will your attendees be required to show proof of vaccination, or a negative COVID-19 test before they're granted entry into your event spaces or permitted to register?
How will you manage that requirement?
There are several digital tools available now to streamline this process and make it private, consistent, and fast.
Onsite Wellness Resources
Will you provide any access to COVID-19 testing for guests who start to feel unwell during your event?
Will the tests be self-administered or facilitated by a clinic?
At a recent event, we hired a Registered Nurse to staff a Wellness Lounge for the duration of the event, giving attendees somewhere to pop in should they have any questions about a symptom or need support with self-testing.
Access to Support
What do you want your attendees to do if they start to experience symptoms or just have a question about their health and wellbeing onsite at your event?
Have you set up and shared some kind of support communication line (i.e., an email address or phone number to text) for guests to alert you if they need support?
This early notification can allow you to act quickly and can be the difference between a handful of cases onsite and a super spreader event.
Escalation Plan
What happens if someone tests positive or feels unwell? Who do you notify and what are the sequence of events? For example, your host hotel will want to be informed so that they can properly sanitize that guest's room after check-out. Who from your own organization needs to know?
Will you be contact tracing and advising other attendees to monitor for symptoms?
Put together a protocol for your team onsite that lays out all the details, including what you'll share with staff, speakers, exhibitors, vendors, and attendees, as well as who will be responsible for sharing that information (and how).
Coming out of the pandemic means there is a whole new layer of considerations to keep top of mind when you're planning to bring people together IRL. The landscape of travel has changed dramatically, and it continues to change every day. Keep an eye on the official guidance coming out of your destination country to ensure you can advise your guests accordingly, and execute a seamless experience, no matter where they're coming from.
Have you travelled for an event recently or had a group travel into a destination? Follow us on Instagram @loma_agency and let us know about your experience.