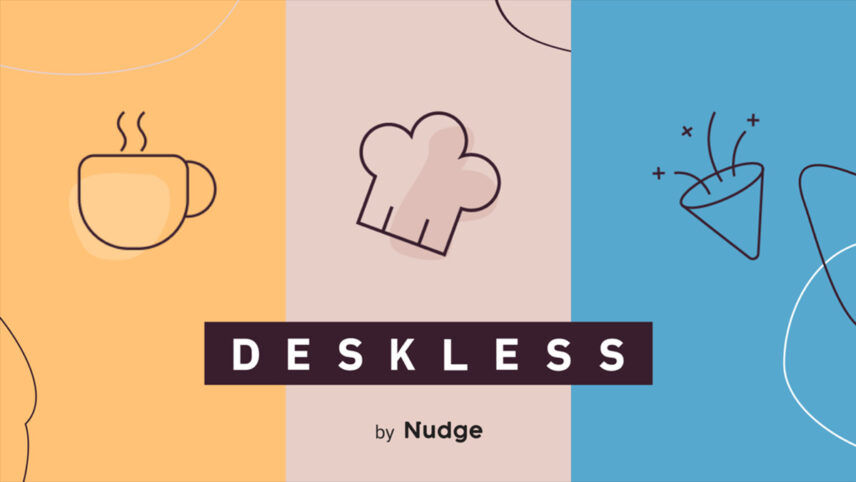 About Nudge
Nudge is a digital communications platform that aims to improve productivity for organizations with a deskless workforce. From retail to food service, Nudge provides a way for employees that don't sit in front of a computer all day to receive important and timely communications right to their phones. Gone are the days of bulletin boards and 3-ring binders to keep employees in the know, as Nudge allows frontline and deskless workers to have real-time access to tools, knowledge, and support to do great work every day.
About the Event
Website: https://nudge.co/deskless/
DESKLESS is a new community where organizational leaders of deskless and frontline employees can come together and talk about the ideas, concerns, and trends shaping their industries. The inaugural event series, Spark Sessions, offered deskless executives a chance to network and gain expert insight from industry leaders on setting up their workforces for success. 
Each 2-hour Spark Session was split between education and entertainment with the goal for each event being to complement thought leadership with a fun and interactive activity. The LOMA team helped select and build a virtual environment and source unique engagement opportunities to help connect audiences and reinforce messaging from Nudge's network of industry experts.
Beginning with a tea and chocolate tasting from Monarch Tea Co., Spilling the tea with deskless trailblazers saw CVS Health CMO Norman De Greve and Tony Weisman, the Advisor and former CMO of Dunkin' sit down with CEO of Nudge, Lindsey Goodchild to discuss the current challenges facing frontline workforces.
The second session aimed to evaluate The ingredients of a high-performing deskless workforce with a cooking demo from the Food Network's own Tanya Holland, and a powerhouse panel featuring Sarah Jordan, CEO of Mastermind Toys, and Rachel Huckle, Chief Retail Officer of Staples Canada. The two joined Nudge's Lindsey Goodchild to divulge their key considerations in curating a high-performing workforce.
The sessions wrapped up with the release of Nudge's The Deskless Report, analyzing survey responses from deskless workers and leaders in 2021 to assess the current state of the deskless workforce, sentiments then echoed in a custom improv show by The Second City. Futurist Andrew Au shared his thoughts on the findings, as we consider being Unscripted, not unprepared: what 2022 looks like for the frontline.
Want to know more about how the LOMA team helped to create and elevate this event series? Read more about Nudge's Spark Sessions on our blog – coming soon!