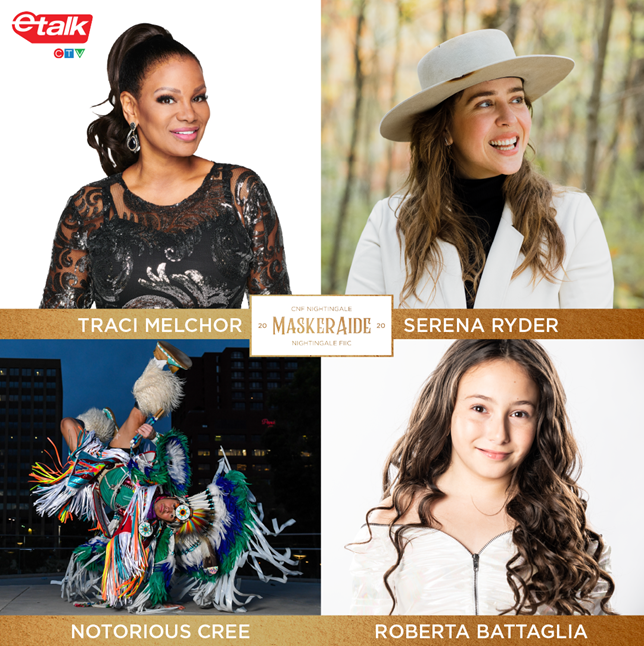 The Canadian Nurses Foundation (CNF) supports world-class Canadian health care by raising funds to advance nursing knowledge and research, and by recognizing professional merit in Canada's nurses. By investing in nursing education, research and training today, we can be prepared to face the health care challenges of tomorrow.
2020 CNF NIGHTINGALE MASKERAIDE – A VIRTUAL CELEBRATION OF NURSES
The 2020 Nightingale MaskerAide marked the first time CNF took its annual fundraising gala virtual – creating a national stage to shine a spotlight on the nursing community across Canada. For this 10th anniversary gala year, CNF raised just over $100,000 in support of nurses with a portion of proceeds going towards the Canadian Nurses Foundation COVID-19 Fund. Over 600 guests nationwide came together virtually to thank and celebrate nurses for their tireless efforts on the front lines and providing aid during this crucial time.
The evening featured a special live performance by award-winning and chart-topping Canadian singer-songwriter Serena Ryder and performances by America's Got Talent Season 15 Golden Buzzer Winner Roberta Battaglia, and TikTok star Notorious Cree. There were also special messages from dignitaries and celebrities across Canada including the Honorable Patty Hadju, Hayley Wickenheiser, Lisa Laflamme and Rick Mercer to name a few.
As part of the event's successful #ThankANurse social media initiative, nearly 150 nurses from around the country were nominated by their peers for going above and beyond, 80 of whom attended the event. A few of these nurses were also invited to share their stories live during the program, a highlight of the night for many attendees.
The evening also featured a virtual photobooth experience, sponsor lounge and an opportunity for guests to bid on an array of auction items through a silent auction platform before, during and after the event.
TO READ MORE ABOUT THE EVENT VISIT OUR BLOG