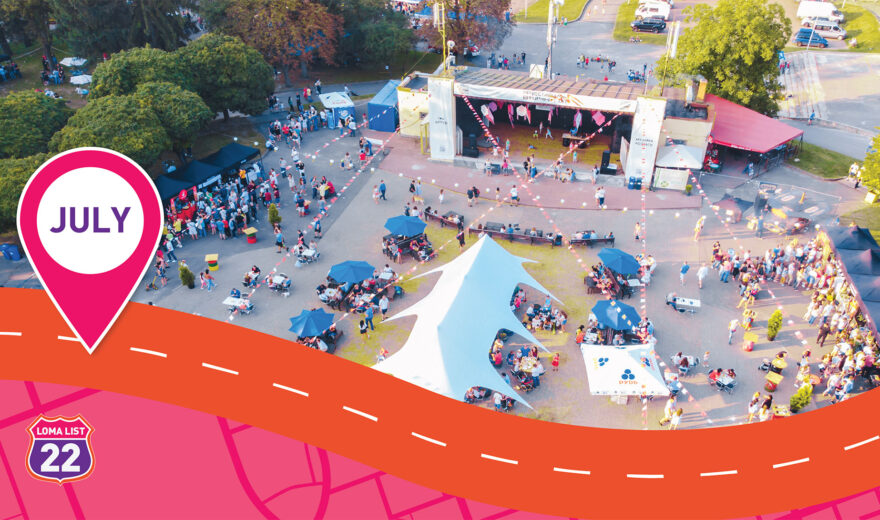 July 27, 2022
By: Magdalena Duhart & Kurt Mungal 
Summer is coming in hot this year, and like clockwork, many organizations are on the lookout for ways to enjoy the warm weather and extended sunshine with their teams. Sometimes a rooftop with a view or a covered patio are enough to please a crowd. But if you want to level up the "play" this summer, we have some ideas for you to consider before your next team outing!
Support Local Businesses with a Picnic
Picnics are always popular during the summer. Not only are they a great way to give your attendees a chance to relax and experience the outdoors, they can also be as simple or as elegant as you'd like, depending on your budget. One way to really enhance the experience is to partner with local businesses in your community to assemble the refreshments. So many of us work in cities and neighbourhoods that are filled with great restaurants, bakeries, delis, and coffee shops, but we miss out on all of them because a tight household budget requires us to pack our lunches each day. Treat your teams to a "taste of the community" by catering from your local hot spots. You can even theme these experiences around specific menu items, particularly if you find yourself already in a culturally specific area (e.g., Little Italy, Chinatown, etc.).
Not only is this a great way to support local businesses, but it's also a nice way to treat your team members who may not have had the chance to spoil themselves. Additionally, you can stay on-theme and gift your guests with an eco-friendly bento box as a way of saying thank you and to encourage them to enjoy more meals outside this summer—while helping them be kind to the environment.
Give Back and Take Your Team Tree Planting
Corporate philanthropy is an excellent way to incorporate more "play" into the day-to-day lives of your team while making a difference to the planet. For example: Did you know that the rate of deforestation over the last 5 years was an estimated 50 million hectares? It's no secret that our climate is in crisis—and if you had any doubt, just look at some of the record-setting temperatures we've experienced in the last month alone.
Tree planting and reforestation expeditions can offer a wide range of benefits for your teams, including creating awareness around the risks of deforestation, providing them an opportunity to connect with nature, and promoting health and wellness with a great day of exercise.
Check with your local environmental not-for-profits to determine what kind of corporate partnerships they offer, how your team can get involved, and what's included in the experience. If tree planting isn't offered, you may find a whole host of other summer-specific philanthropic activities your team can participate in that will not only be fun, but meaningful as well.
A Little Healthy Competition
As many people have returned to the office only recently, your teams may still be getting to know each other. This might make some social events a bit awkward at first—especially if you happen to have more introverts than extroverts in the crowd. One way to break the ice is to introduce a little friendly competition into the mix.
In the summertime, there is no shortage of team building exercises available to corporate crowds—you just have to find the right activity for your audience. Some ideas include bubble soccer, beach volleyball, escape rooms, cooking classes, mini-golf, and much more.
Many of these options can even be made portable and rented for the day so you can enjoy them anywhere. For example, did you know you can rent a portable mini-golf course and decide how many holes you will have, and even the layout of the game? You can also brand the backdrops and give away branded golf balls as gifts to all players. With competitions like these, you help with the heavy lifting of socializing that may be tough for attendees that are still getting to know each other, and possibly help create some new life-long friendships.
A Party with a View
As we mentioned earlier, sometimes all you need to please a crowd is a rooftop with a view. What we really meant was that the opportunity to spend a warm summer night high-in-the-sky, catching the sunset is a luxury that your customers, clients, and employees won't soon forget.
The key is simplicity. If you choose the right rooftop with the right view, you can let the space speak for itself without having to worry about coordinating a total transformation. After all, it's not a hotel ballroom that needs dressing up. In terms of food and beverage, consider keeping the menu light but abundant so that your attendees don't feel too heavy or sluggish on a summer night. Also (and this is important) make sure to keep everyone hydrated. Depending on the time of your event, your guests may require more hydration than even they realize after standing out in the sun. So, make sure you always have a variety of refreshments and beverages on-hand. We recommend incorporating refreshing drinks such as lemonades, which are very popular this time of the year, and the perfect addition to many of your favourite summer cocktails.
And of course, the cherry on top is to have a live DJ or musical guest to keep the party going all night long.
Make 'em Laugh
Comedy and improv classes continue to grow in popularity, and most large cities in North America have studios that offer corporate packages (e.g., The Second City). In addition to being a lot of fun and a great way to let teams get to know each other, they also teach audiences new and interesting ways to communicate with one another.
Think about it: wouldn't it be great if your weekly team meeting included more laughter? Wouldn't your presentations and pitches be less stress-inducing if you had some tools and techniques to access when it came to engaging an audience? Comedy and improv can improve how your teams relate to clients, customers and each other, but you'll be laughing so much you won't even notice how much better you're communicating!
This is just a small selection of ideas, but if you don't know where to start, no problem! Just try to imagine what kind of impact you would like to have on your team and what kind of memories would you like them to walk away with.
Are you more on the side of having fun and playing together? Then a comedy class or one of the more competitive options could be a great choice.
Would like to give your team the opportunity to disconnect and enjoy nature? Then a tree planting activity may be your best friend, giving your team a sense of gratitude and the satisfaction of giving back to the planet. Or, if you go with an outdoor picnic, you'll have a day to relax and enjoy the outdoors while supporting the local community. This is a great way to get out of the "office" vibe and experience something unique.
Finally, if you would like to give them an evening to remember, then start looking for the best rooftop views in the city. You will ensure an elegant and vibrant night to capture the golden hour and create memories that they will never forget.
Seize the summer and start making memories! Explore these options to see if one could be the good fit for your team, and then get planning. If you could use a hand, reach out to us at info@lomaagency.com, because these ideas are just the beginning!