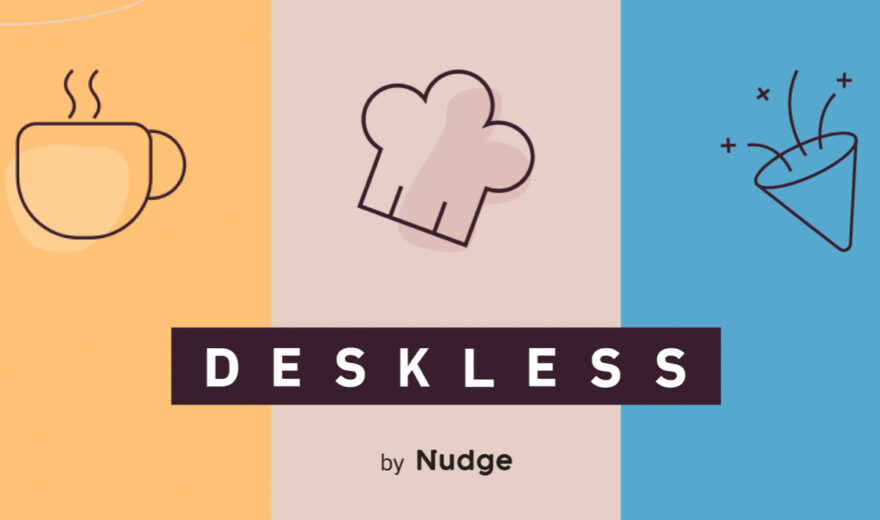 February 14, 2022
Not Your Average Virtual Event: Curating Nudge's DESKLESS Spark Sessions
By: Amy Gaskin
As we enter 2022, it's safe to assume we've all had to adapt and put in place virtual event strategies in the past two years. At LOMA Marketing Agency we recognize the changes that have been made to the virtual event landscape during this time; transitioning from Zoom to elaborate platforms that try to re-create the in-person experience virtually, and everything in between.
For our client Nudge, a virtual event series was an opportunity to bridge the gap between in-person and virtual events, engaging an audience of current customers, prospects, and net new leads with experiences that combined educational and industry-based thought leadership with fun and interactive attendee engagement.
Nudge is a mobile platform changing the way deskless and frontline organizations communicate. The Nudge app enables head office to share relevant, critical information with their deskless workers across every location in real-time. Employees can provide feedback, take part in discussions, and test their knowledge while earning recognition and points. Since 2012, over 22 million Nudges have been delivered, increasing sales, employee engagement and retention, and providing managers and head office with insights that lead to smarter decisions.
The DESKLESS community was launched by Nudge to connect leaders of deskless and frontline teams, providing a space for them to come together and share ideas, challenges, and industry best practices. As an innovative platform themselves, the Nudge team wanted to move away from presenting a virtual series that felt like "just another webinar" in developing their DESKLESS Spark Sessions series.
We partnered with Nudge to select a virtual event platform that was both intuitive for attendees to navigate and offered features above and beyond that of a typical webinar. We were able to elevate the virtual experience and maintain the focus on attendee connection while delivering a series of professional presentations.
In early ideation calls between our team and Nudge, our theme structure was quickly established as to how we would frame this three-part event series: SIP. SAVOR. CELEBRATE.
With the concepts and platform in place, our team at LOMA reached out to various partners to deliver on unique experiences for each part of the series, as well as source corresponding industry experts that would put the spark in these Spark Sessions.
First up….
SIP: Spilling the tea with deskless trailblazers
The DESKLESS Spark Session series kicked off with a tea and chocolate pairing experience led by tea sommelier Katie Cyr of Monarch Tea Co. The tasting featured three premium loose-leaf teas, each expertly paired with a unique chocolate from Beanermunky Chocolates.
Once the tea was prepared, Nudge's CEO, Lindsey Goodchild, sat down with CVS Health CMO Norman De Greve and Tony Weisman, the Advisor and former CMO of Dunkin' to discuss the current challenges facing frontline workforces.
There were several key takeaways that stood out to our team about the SIP experience:

There is an advantage to supporting local small businesses
Especially throughout the past few years, it's no secret that the pivot required by business to stay open and operate safely throughout government closures and capacity reductions has taken a toll.

Finding ways to support local companies through events, whether virtually or as we shift back to in-person experiences, not only helps businesses stay in business, but provides attendees with a truly one-of-a-kind experience they can't get anywhere else.

Mailers enhance a virtual experience
Each attendee received their tea and chocolate tasting kit prior to the event, allowing them to follow along during the session. In the event chat, attendees remarked on how excited they were to taste the pairings – some were so excited to receive their mailer that they'd already eaten their chocolates, but everyone agreed they were delicious.

To make the package extra special, we added a branded mug and customized note for the event, creating a souvenir for attendees to enjoy long after the event ended.


Leveraging existing relationships helps when selecting panelists
Even virtually, the comradery between familiar presenters was palpable throughout the panel presentation. Often times, having a wide range of representation on a panel is seen as a benefit, and while this can absolutely be true, the genuine connection and conversation flowof panelists who have previously worked together adds a comfortable understanding of both presentation style and content that made the audience feel like part of the discussion from the other side of the screen.
Next Up…..
SAVOR: The ingredients of a high-performing deskless workforce
The second Spark Session kicked offwith a cooking demo from the Food Network's own Tanya Holland. Our event host, Nudge's Senior Customer Success Manager Chris Morgan, accompanied the chef to facilitate a cooking Q&A as she prepared a classic favorite recipe from her cookbook Brown Sugar Kitchen, which was gifted to all attendees following the event.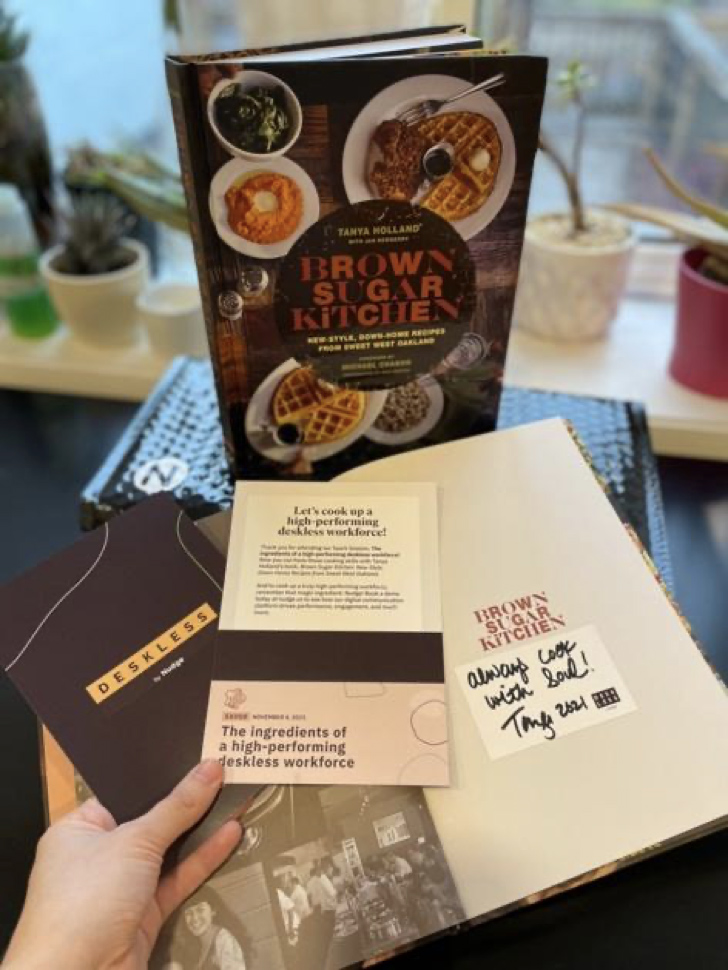 After the demo, Nudge's Lindsey Goodchild was joined by the dynamic duo Sarah Jordan, CEO of Mastermind Toys, and Rachel Huckle, Chief Retail Officer of Staples Canada, who shared their key considerations in curating a high-performing workforce.
While curating this session, we found that it was important to:
Find yourself a host with the most
Chris was brought in from the first event to act as host and moderator for each session. Throughout the entire series, his expert management of panel discussions and Q&A periods and ability to think on his feet, not only kept conversations moving, but allowed him to take them deeper, aligning with Nudge thought leadership, which significantly contributed to the overall experience and success of the event.

While it may not seem as though a host or emcee could have the same impact virtually as they do in-person, in both cases a great host can really elevate the experience.
Recognize that live events are live events, whether virtual or in-person
In spite of all the preparation we do as planners, there are always elements of a live event that are out of our control, and the same is true for virtual experiences. Whether you experience the odd technical glitch, or a smoke detector going off during a cooking demo, it's important to remember that everyone is human, and stuff happens.

Make networking opportunities accessible and approachable
Many are encountering virtual social fatigue, therefore networking engagement has proven to be a challenge when it comes to ongoing virtual events. To combat this, we moved away from general networking opportunities, to hosted sessions based on specific conversation topics and found that added structure was beneficial in making virtual networking more approachable.
And rounding out the series….
CELEBRATE: Unscripted, not unprepared: what 2022 looks like for the frontline.
The Deskless Report, released by Nudge in late 2021, provided the perfect framework for Co-Founder and CEO Lindsey Goodchild and futurist Andrew Au to assess and analyze the current state of the deskless workforce and look towards the future in the final Spark Session.
The challenges discussed during the SIP experience and the strategies to develop a high-performing workforce revealed in SAVOR, all culminated in a custom improv show by The Second City to CELEBRATE the DESKLESS community.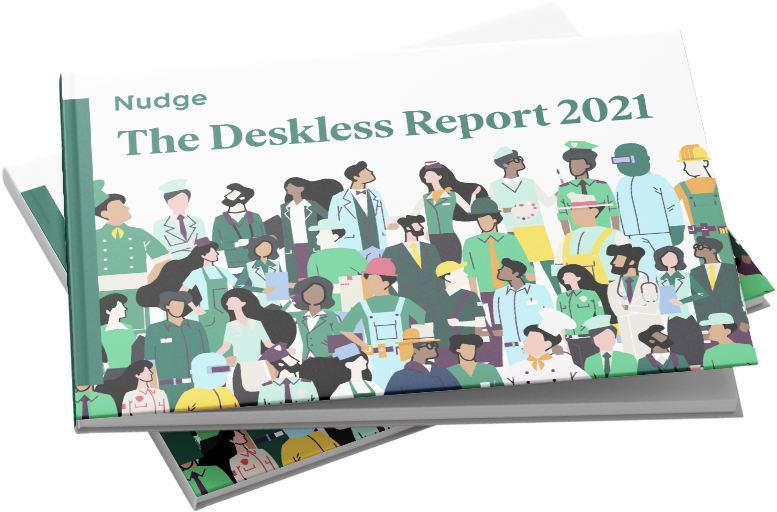 Image by Nudge via The Deskless Report 2021
Our key findings from this experience were:

Encourage attendee engagement at all levels of the experience
Prior to the event, the Nudge team released a call for nominations for the inaugural Cheers Awards, encouraging their customers to highlight their frontline workers who go above and beyond. Nominees and winners were invited to the event to celebrate their hard work, and the professional recognition personalized the event experience.

During the event, speaker Andrew Au complemented his analytical content with trivia questions and the improv team from Second City relied on audience participation to drive their scenes. In both cases, attendees were able to stay engaged by interacting with presenters.
Engage speakers as early as possible for optimal preparation and rehearsal timelines
Though many are presenting from the comfort of their own home, scheduling rehearsal time with speakers and talent ensures they feel confident and prepared and is necessary to provide a seamless presentation.

Ensuring all presenters are able to log in successfully to avoid delays during the live presentation is crucial, as well as additional rehearsals which can act as an opportunity to check in on presentation content and ensure everyone is aligned on the final deliverables.
The past few years have taught us a lot in terms of how to execute quality virtual events and pushing the boundaries of what can be actually accomplished in the digital world. Nudge's DESKLESS Spark Sessions were no exception, working with new technology, speakers, and partners to expertly curate a series of virtual experiences that aligned with Nudge's goals.