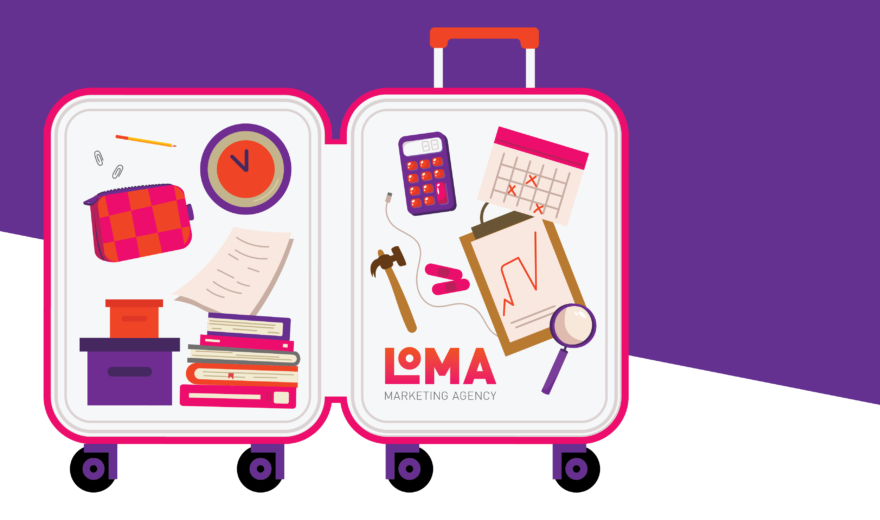 April 27, 2023
Mary Poppins has Nothing on an Event Planner's Supply Kit
By: Angelica Dimapindan
A key part of the event planning process is contingency planning. As planners, we need to look at the big picture to try and predict all the different scenarios we could encounter on-site. And while this is definitely one of the ways to create a successful event, it's critical to simultaneously never forget the smaller details.
At LOMA Agency, one of our values is the devil is in the details! That's why a part of our pre-planning event strategy is to pack up all the important supplies we might need on-site in our event supply kit and bring that with us wherever we go.
We have found that having a thorough event supply kit has not only made our lives easier, but it has reduced expenses on-site and brought added value to the trust-relationship with our clients — they are always so pleasantly surprised to have access to a variety of supplies as needed. 
While it may not contain a floor lamp like Ms. Poppins' does (though you can try to bring one), it sure is magical!
Here are some categories to think about when assembling your very own event supply kit:
Things that you don't use daily
Yes, that's right! Our experience being on-site has shown us that office supplies we do not use on the daily are sometimes the ones we need the most. For example, think about including chimes to get attendees attention and back in session, or an audience counter to track room capacity/attendance.
Things that you do use daily
We like to bring a mini version of our office supply drawer wherever our events take us. While a hotel will definitely have pens for you, having a couple of extra boxes in various colours never hurts. Aside from pens, include items like post-it notes, highlighters, blank thank you cards, tent card stock, tape, scissors and the most prized possession: an exacto knife (or two!) to open all those boxes!
First aid and safety
While you likely won't need a full first aid kit (most venues should have supplies onsite as well as a defibrillator), the severity of an unexpected case may not be high enough to get venue staff involved, and sometimes you need to access things quickly.
To be prepared, bring the essentials, such as small packs of tissues, Band-Aids, Polysporin, an ice pack, Tylenol or Advil. These always come in handy!
Tools
Did a hammer come to mind when you read the title of this section? Maybe not, but that is exactly the kind of thing you would find in our kit (and yes, if you're wondering, this bag gets checked)! Another useful tool to include is a set of mini screwdrivers, which are especially helpful for set-up and tear-down of those pesky pop-up banners and backdrops.
Tech supplies
Since we rely heavily on our devices (laptops and phones, etc.), it's a nice touch to bring extra charging cables that everyone can leverage. No need to run up to your room to charge your phone or worry about losing your personal items — create a mini charging hub in your event office. 
We also like to include electronic supplies such as adaptors, USB drives, and dongles! Anything that can be useful when you have last-minute changes and tech requests. Everyone, from your fellow planning team to your client and suppliers, will appreciate it.
In Conclusion
Your event supply kit is your way to expect the unexpected. It's an extension of your office in the form of a box you ship to your venue location in advance or a suitcase you check on to your flight. Whatever form it takes, remember to think through the day-to-day activities on-site and what you might need, but also anticipate in advance the possible surprises that may pop up.

Additional questions you could ask yourself to help build your kit are:
What supplies do you usually have to buy once on-site, or have you found the venue/hotel cannot provide?
What have you been asked for at previous events by your clients or vendors?
What was something small that you wished you had in the past to make life a little easier?
At the end of the day having access to all these supplies at your fingertips will help prevent any additional stress onsite and free up time and resources to pull off an amazing event.
Share with us what your event kit looks like by tagging @loma_agency on Instagram or LOMA Marketing Agency on LinkedIn.