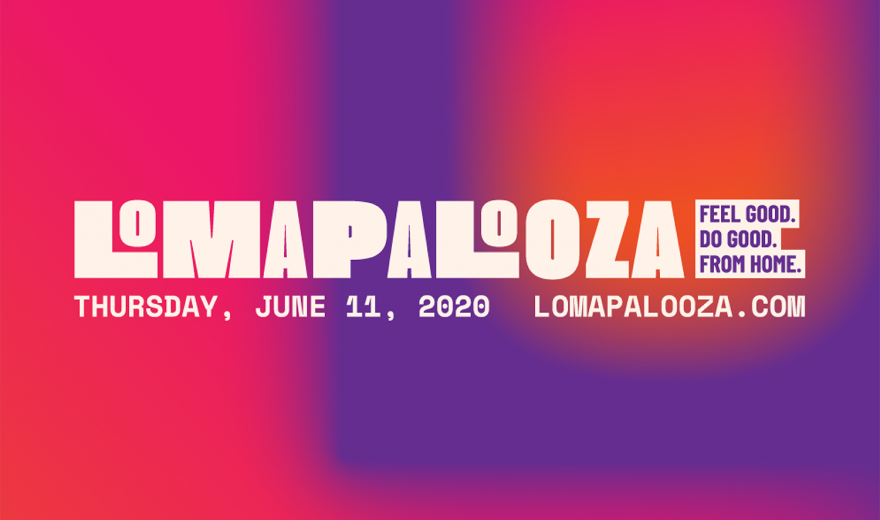 August 15, 2020
LOMAPALOOZA: 15 Presenters, 9 Hours, 2 Great Causes, 1 AMAZING DAY!
After returning home from producing a large conference in San Francisco the first week of March 2020, COVID-19 took over, and since then, the world has been forever changed.
For the first few weeks, we at LOMA Agency took each day in stride; however, the team and our clients soon began to realize this virus wasn't going anywhere, and so began the process of 2020 program cancellations and postponements.
The word of the year: PIVOT!
In mid-April, a month or so into lockdown, we began thinking about how we could make the most of the "new normal," and the idea of a one-day virtual event for good, LOMAPALOOZA, was born.
Rather than it being just another virtual event that contributed to Zoom fatigue, instead it would be a break from what people were dealing with both personally and/or professionally and a day about feeling good while doing good…from home!
In lieu of fees for the event, we instead decided to help raise money for Food Banks Canada & Feeding America as the pandemic only exacerbated the need to support these two amazing organizations.
With our goals in sight, the date was set for June 11th — giving us just under eight weeks to bring LOMAPALOOZA to life.
Here are five reasons why the day was a success:
1. Virtual Events (Like In-Person Events) Require Planning
There can be a misconception that hosting a virtual event is as easy as leveraging technology such as Zoom to quickly set up a webinar or meeting, confirming some speakers, and sending out a calendar invitation. We wish it was that easy! The truth is, in order to host a seamless, engaging, creative, successful event – you need to put the same energy, effort and organization into it that you would for an in-person event.
Similar to in-person events, a solid project plan based on key milestones and objectives identified up front are keys to success. Also, building out a critical path (as some of us in the 'biz like to call it) helps to keep the planning team accountable and on track and identify roadblocks before they occur.
The biggest challenge we see is not enough lead time being considered to create a solid plan and execute on it. In an ideal world, depending on how robust your program is, a good timeline we suggest is a minimum of 4-6 weeks. For more intensive, multi-day, multi-session virtual events, you're likely looking at closer to 8-12 weeks.
LOMAPALOOZA took eight weeks to come to life. Those eight weeks (and we could have used nine) allowed us to focus on defining what success would look like as well as establishing a plan to encompass many of the moving parts for an in-person event such as:
Creative and content development
Sponsorship
A strategy for registration and communication
Social media marketing
Technical production including scripting, show flow and rehearsals, a troubleshooting plan, as well as defining team roles and responsibilities
While I will say planning a virtual event can be less demanding physically, it still requires the same amount of mental focus — if not more — and the "event high" is still the same.
2. Creating Community with Content
"Bringing together such love, laughter, music and good eats, and an impact to our communities in need. You all truly showed us the importance of and exactly how to build community while physically distanced, but utterly socially and spiritually connected. "
The above quote is one of the many positive pieces of feedback we received from our participants which made us all smile.
As we approach just over six months into this pandemic, the thought of sitting in front of our computers for yet another 'experience' can make one want to pull their hair out.
Not every in-person event should be translated to a virtual experience, but if you deem it to be so, there is an opportunity to ensure your attendees feel a sense of community, inclusion and connection.
LOMAPALOOZA was all about connecting a community to raise money for two amazing organizations, Food Banks Canada and Feeding America.
We knew with a 9-hour event on a Thursday most people would not be able to attend the entire experience, so we endeavoured to plan a day to accommodate various time zones that included something for everyone. A 'choose your own adventure' if you will. Whether you popped in for the smoothie session and came back for our DJ power hour, or just joined to learn about graffiti or see a beautiful performance by a talented singer, it was up to the attendee to choose what was meaningful to them and what made sense for their day.
Additionally, ensuring we had a diverse lineup of presenters from different locations was part of the special sauce that made the day a huge success.
With over 200 attendees participating, that community feeling started building before the event by having everyone connect with us and one another on various social media channels. On the day of the event, between the chat room, live Q&A, polls, Instagram insta-story bingo and interactive experiences where some attendees shared their audio and video for sessions like the Trust Mindset dance from the team at Great Place to Work®, or a collective guided mini meditation with Sikin Samji, the feeling of community had not only been built – it was palpable.
Thanks to our post-event survey, LOMAPALOOZA received an overall score of 91% with majority of attendees rating their experience as "LOVED IT". Community, inclusion, connection achieved!
3. Think About the Attendee Experience
There are different types of virtual events which we explore in greater detail in our blogpost Empowered by Change – Pivoting to Virtual Events.
In this whitepaper, we discuss the importance of accommodating different learning styles as not everyone absorbs content in the same way. Some people are visual learners while others may be auditory. Some find taking notes or writing helps with information download whereas kinesthetic learners prefer physical, hands-on engagement.
It is important to take this into consideration when planning your agenda and speaker lineup.
As previously mentioned, for LOMAPALOOZA we wanted to ensure that there would be something for everyone in terms of topics, whether it was health and wellness, food, arts and music or personal growth.
Diversifying how those sessions were delivered was key to creating unique experiences and catering to various learning styles, whether it was a panel of speakers, engaging a selection of attendees, getting people moving with a dance or following along with a recipe.
If you missed out on our inaugural experience you can access the recordings on demand free of charge by visiting www.lomapalooza.com .
4. Define Roles & Responsibilities
Host or emcee, co-host, panelists or presenters, moderators or facilitators, attendees, technical producer, speaker wrangler: these are just some of the roles required to pull off a virtual event, and it's important to ensure everyone knows what their role is, and what it entails, leading up to the day of the event.
Having a host or emcee facilitate introductions and transitions before, during and after presentations is definitely what sets a good virtual event apart from a great one. Having a co-host or multiple hosts is also an option, but it's worth identifying that early on. A co-host can also be someone who may not be 'on screen' hosting per say, but could be logged in following along as back-up should the host's technology fail (as an example).
For your presenters or panelists, preparing them in advance with a short kick-off call, followed by a speaker logistics email including everything from their schedule, required materials to sample social media promotion copy, is fundamental to setting them up for success.
This was even more crucial for LOMAPALOOZA with 15 presenters, and another reason why having enough planning time is crucial. We also assigned a point person from our team for the speakers on the day of so that they could connect with someone at any time leading up to their session. Having a wrangler also allows you to ensure you presenters are standing by ready to go, ahead of their presentation.
Defining who will moderate the chat and Q&A day of is also important and helps engage your attendees. Introducing this person to attendees throughout the day creates that human connection and can help attendees feel supported throughout the experience.
The technical producer I would say is the most important role to ensuring a seamless and successful event. This person needs to be able to multi-task and be very comfortable with the technology.
For LOMAPALOOZA as with many of our virtual and in-person events, we worked on developing a thorough script and show flow for the event that allowed each person to think through their role and incorporate cues that enabled us all to have clear direction throughout the day.
5. Rehearse, Rehearse, Rehearse
I can't express enough how important it is to build rehearsal time into your virtual event plan for your speakers and as an internal team to run through flow and transitions.
You wouldn't get up on stage in front of a live audience without rehearsing, and not rehearsing leaves room for error.
Speakers may push back saying they don't need it, but trust us, they do. Even if it's just 15 minutes to get them familiar with how the technology will work and who is presenting before or after them, it will be time well spent.
Rehearsing multiple times also uncovers new gaps or questions each time, as you experience each rehearsal a little differently and/or get more comfortable with the flow of the experience. Leaving time between rehearsals also allows you as a team to digest the experience and raise any red flags leading up to the next rehearsal.
Yes, even with rehearsals things can still go wrong – we are dealing with technology after all – however, if you've rehearsed and discussed plans B, C and D, you'll be ready to handle those challenges if and when they arise.
That's A Wrap
As a team we were really proud of what we accomplished with the inaugral LOMAPALOOZA raising over $4,000 for two great causes while bringing people together for a day to feel good, and do good, from home.
While we didn't miss the post-event "clean up" that normally happens behind the scenes on site at live events, we did spend time debriefing and thinking of ways to make LOMAPALOOZA 2021 even better!
Looking ahead, we're more prepared than ever to embrace the new event marketing landscape, and what's more, we're ready to help others prepare as well.
Don't under-estimate what it takes to execute a virtual event: partner with experts like us at LOMA Agency who can help you elevate the experience and provide your attendees (or employees) with the connection they're craving.
Ready to get started? CONTACT US for more information.