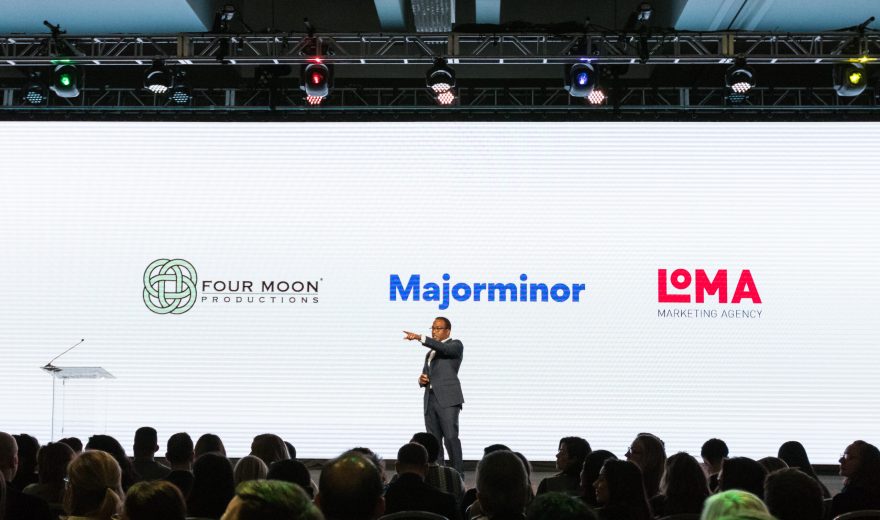 November 12, 2019
It's All About Truss – 5 Tips to Successful Event Audio Visual Production
Picture this: You worked for months planning your product launch and now your venue is filled with eager attendees, all waiting to hear the exciting announcement you've been promoting. Your CEO is about to go onstage after an intro video that will really get the crowd amped for their talk. The video starts and then suddenly is frozen on the screen. You turn to the video technician who's nodded off and hasn't even noticed what's gone wrong.
The audio-visual component of any meeting or event can have a huge impact on the overall experience—good or bad. This is why it's crucial to collaborate with a production partner who's earned your trust and asks the right questions, making sure that they've got your back from before the first attendee arrives until the last one leaves.
In a recent conversation with JT Naughton, Owner of Four Moon Productions, one of our AV partners, we discussed five key considerations for planning a successful AV component of your event.
1. Venue selection and contracting
Get your production partners involved from the beginning. Have them tag along on site visits as they can point out potential challenges and/or opportunities. They may have also worked at the venues you are considering before and could share from past experiences; everything from what would work well in the space to their experience dealing with the venue staff. Another roadblock you may encounter is a venue wanting to charge you a fee should you wish to bring in your own AV provider versus going with their in-house production partner. There is an opportunity to negotiate this fee down or even have it removed entirely. If the venue won't budge, then you need to make a decision, but you can't put a price tag, in our opinion, on the trust you already have with a partner you've worked with versus working with an all-new team. This is not to say that all in house teams are horrible and at times it may make more sense budget-wise to work with the in-house team. Our advice is to challenge the venue and if you are going with the in-house company, don't be afraid to ask for past event testimonials, stage set examples etc.
2. Union vs. non-union
Some venues are union houses. If you're not familiar, a union house hires workers who are members of a labor union and this can affect your audio-visual production budget substantially. Most unions require some kind of shadow position for any operating position your preferred production company provides. There are also a lot of rules to follow so ensuring your production partner understands all the rules and plays nice with others is key to a successful onsite setup.It's also important to ensure that breaks are scheduled to accommodate meals and downtime. Be sure to schedule setup and loading in during regular working hours to avoid overtime charges. If your event happens to fall on a holiday, some unions mandate overtime or even double-time if working on a major holiday.
Last but not least, many unions are charging "broadcast fees" for not only a live streaming event, but also for any content that will end up online, regardless if you're charging to view that content. Some unions consider online content as a marketing opportunity for the end client and therefore see it as a revenue generating tool, hence the broadcast fee.
3. Accurate agendas = accurate quotes
It's inevitable that your agenda or program is a work in progress leading up to the event. This can however have an impact on an AV quote as adding gear here and there or more labor can impact the quote substantially. If you know this is something you'll potentially struggle with, then have a conversation with your production partner to buffer in some additional dollars to accommodate last minute additions/changes and avoid surprises.Don't be afraid to ask for updated quotes as you go through the planning process to ensure everyone is on the same page.
4. Set up and rehearsals
As the saying goes, "measure twice, cut once" and so we say in the events world, "rehearse or bust." Rehearsals are as much for your speakers as they are for the production team. The end result is a polished presentation and happy, engaged attendees. Unfortunately, rehearsals are often overlooked until just before the program which can cut into setup time or may not even be an option, depending on when you gain access to the venue. Having your crew setup overnight to accommodate a morning rehearsal may seem like a good idea, however, that can leave them tired by showtime and nobody wants that.
A good plan of action is to ensure that you book your venue to include at least a day or evening ahead to allow for building in rehearsal time once set up is complete. This allows your production partner to budget in the time and labor to accommodate the rehearsal in the overall quote.
5. Consideration and respect
Unfortunately, it's not uncommon to see crews being treated like hired help. Long hours are to be expected, especially with the mentality of "the show must go on". Just remember that an exhausted crew probably isn't at the top of their game. Kindness is key to a successful partnership. This could be as simple as arriving onsite and greeting everyone and doing your best to remember their names. Arranging for crew meals also goes a long way—your crew will appreciate the thoughtful (and tasty) gesture and you'll enjoy extra efficiency from your crew staying on site.
Last but not least, a genuine thank you to each crew member to acknowledge their contribution is a must. Too often, crews don't get the recognition they deserve, despite being behind the scenes making the magic happen.
After managing many events, we've found these tips essential to ensuring a successful event, happy crews, and seamless production. We hope you find them helpful in planning your next event!
Find us on Facebook, Twitter or Instagram and share your tips and tricks by tagging us @loma_agency or #lomaagency so we can continue to learn from you.