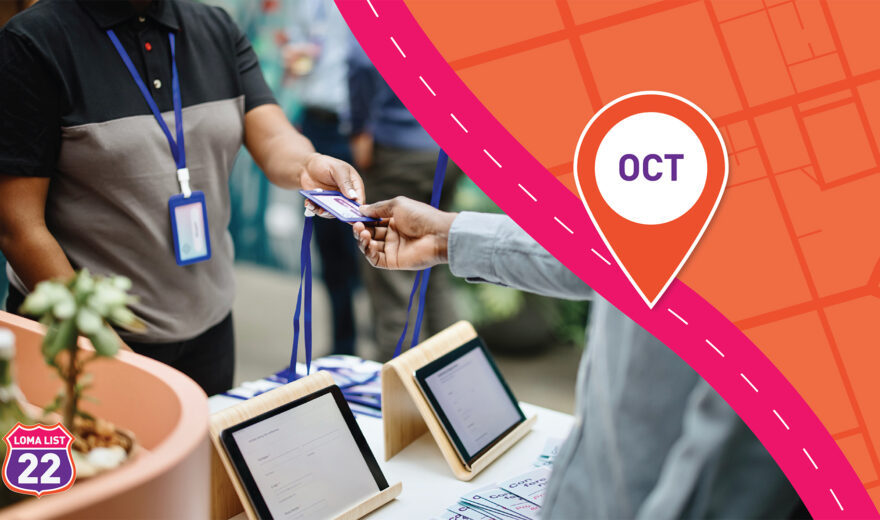 October 27, 2022
Checking In: How to Tackle Event Registration Like a Pro
By: Yana Verbitskaia
The people are coming, the people are coming—or are they? We're back to live events, and those require…attendees!
Whether it's 25 or 25,000, you're going to need an idea of how many to expect and who they are. Welcome to the launching ground for most events: registration.
While there are many factors to consider when designing your event registration process, don't fret. This doesn't have to be a nightmare of spreadsheets and email overload.
Here are a few key things to consider when building your plan.
Event Scale & Format
The two main factors that typically inform your event registration plan are event size and budget (more on budget later).
When it comes to registration software, the options are endless, ranging from cheap and cheerful (read: free) RSVP tools, to robust, customizable full-service solutions that allow you build out unique experiences for different groups, create add-ons and options, and customize a registration flow that works for your group.
For a small event of 25 guests, you may not need a robust solution. Something quick, affordable, and turn-key, like Eventbrite, may suit your needs.
If your event will host more people, span a few days, require attendees to pre-register for sessions, or allow guests to book hotel rooms, then you may benefit from a more expansive technology such as Cvent or Bizzabo. Both of these options (and others like them) offer additional services such as onsite badge printing solutions and mobile app integrations which allow you to create a seamless holistic event experience for attendees.
Going hybrid? You may want to explore solutions that not only cover your registration process, but also allow for virtual session streaming, engagement tools, and other features that will help you connect your in-person and virtual attendees, all in one platform.

Don't feel restricted by your guest count or event format to dictate your next steps. A small but very VIP group may benefit from more premium solutions than a large but less engaged audience. And your hybrid event might require less robust registration than you think.
You know your demographic better than anyone, so tailor your plan to suit their needs.
Budget
An important first step is to consider your overall event budget, especially around branding and technology. If you are making significant investments into the look and feel of your event, it would be a shame for an attendee's very first impression (your registration page) to be inefficient, lackluster, or inconsistent with the brand. The more robust technology solutions offer elevated design versatility that allow you to present a sleek and cohesive first peek.
Do you have an existing budget line item for registration? If not, don't fret! There are plenty of options for all budget sizes.. As mentioned above, there are very useful free or inexpensive solutions out there. Alternatively, you can build a business case for why it's worth investing additional budget in ensuring you have robust, useful attendee data at the end of your event—especially if the event will repeat year after year.
If you do decide to pay for registration software, think through potential costs like software licenses, per-registration fees, financial transaction fees, and your onsite requirements to make sure you're accounting for the full potential expense and there are no surprises.
And don't forget about ancillary registration costs like branded lanyards, staffing, and other giveaways like branded swag or fun identification ribbons!
Integrations & Workflow
In our technology-centric world, there is a digital solution to so many (formerly tedious) workflow processes, from managing customer information to invoicing and finance. Many of these software providers have identified opportunities to partner with complementary services through integrations that allow the movement of data back and forth in real time. This reduces the manual and tedious work that comes with updating spreadsheets, data entry and the overload of back-and-forth emails. We'll take it!
When it comes to registration software integrations, the big one is payment. Are there registration fees associated with your event? If so, what technology do you have or need in order to process payments? This will feed into your onsite experience as well. If you allow payments on arrival, you need a mechanism for that (and maybe even some hardware rentals). When speaking to potential vendors, be sure to discuss their integration with various payment processors, and whether they can help you set one up if you don't already have an existing solution in place. Talk through service fees and how those will be charged. Will you cover those costs as the organizer, or pass the transaction fee along to the attendee?

Outside of the finance department, consider the other tools your organization uses (ex. customer relationship management solutions such as Salesforce). Many companies rely on these tools to track how their events contribute or influence the sales pipelines and bottom line. These data touchpoints can help you build a case for the cost of registration software and for the value of your events as a whole. A word of warning: these kinds of integrations can be a huge undertaking so, before jumping in, involve your key stakeholders like systems administrators and sales teams to first ensure it would be a useful endeavour.

And finally, are you helping guests manage their hotel and/or travel arrangements by offering access to a group room block? There are now various solutions, such as Passkey integrations, that allow you to include travel and hotel bookings right into the registration process. We have all spent time buried in travel manifests and hotel rooming lists, and no matter how organized you are, it can at times feel chaotic. It may be a welcome addition to your workflow to add some automation to this lengthy process.
Data
When designing your registration process, you'll want to think through the various pieces of information you need from attendees and include those in your registration form. Here are just a few standard fields to get you started:
First Name
Last Name
Company Name
Title
Email Address
Address
Phone Number
Dietary Restrictions
Accessibility Requirements
Shirt Size
These details will come in handy onsite but consider also what demographic information you may need to use for future planning and include those fields as needed.
A key consideration in today's digital age is data privacy compliance and security. There are robust regulations in North America and Europe on data privacy, so it's an important conversation to have with your IT team and registration software provider to ensure you're not violating any rules.
Onsite Solutions
Most events provide attendees with a name badge upon check-in. This primarily allows them to access various components of the event but also helps to facilitate networking between your guests.
If you have a small group of attendees, all of whom will be confirmed in advance, you can easily spare yourself the expense of an onsite solution and opt for pre-printed name badges that can be designed and customized to your liking by a provider such as pc/nametag.
Larger crowds may require an on-demand badge printing solution onsite which will allow you to minimize line-ups and avoid manual searching and sorting. These also allow you to easily capture additional guest information onsite, if needed.
Depending on your pre-event solution, you may be working with a provider that can walk you through your onsite registration options. There are so many options for name badges, lanyards, printing capabilities, technology needs, physical space requirements, and check-in kiosks that you can scale up or down as needed.
Discuss with your event stakeholders what's important for them onsite:
Does your sales team need to easily identify customers?
Do you want to make sure VIPs receive any special messaging or treatment?
Do guests require a ticket or identifier to access certain sessions or events?
These factors will determine what other items you might need to incorporate, such as different lanyard colours, pins, check-in notifications, or dedicated check-in stations for various groups. Make sure you're staying in touch with your venue to keep them in the loop on your plans and set-up needs, as you'll likely need access to power, dedicated internet bandwidth, and more.
Staff
At this point, you've done all the pre-work and you have a database full of people that are arriving momentarily to enjoy the fruits of your labour. The last and possibly most important piece of the registration puzzle is your registration staff.
Each member of your registration team represents a guest's first impression of your event. Are they energetic, friendly, and knowledgeable? Because that's what will set them apart and make your guests feel well taken care of. Make sure your team is well versed on things like the event agenda, locations of key areas like restrooms and coat check, and event details like the wi-fi password and mobile app download instructions. Think through your team's outfitting to ensure they are easily identifiable in a crowd—fun accessories like "Ask Me!" pins or similar can make your team easy to spot and more approachable.
Don't forget that the venue staff can also be seen as an extension of your team. Keep them informed regarding your agenda and event locations so that they can help direct traffic and guide your guests accurately.
Registration can feel like an overwhelming task and, without proper planning, can take up valuable time and resources leading up to the event and onsite. Thankfully, the registration process is something that can be managed by a third-party, like LOMA, if you don't have the time to manage it yourself. This frees up your time spent answering attendee inquiries in the months, weeks and days leading up to the event so that you can focus on critical strategic areas like content and sponsorship.
We'd love to hear from you! To learn more about how we can help support your program, contact us at info@lomaagency.com or toll free 1-877-322-4130 ext. 201.