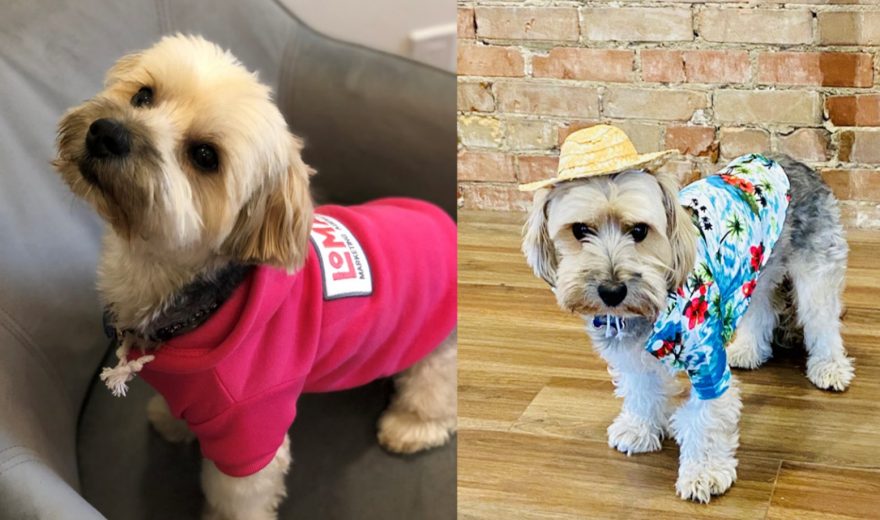 March 5, 2021
Celebrating Employee Appreciation Day with Our Chief Cuddle Officer
Here at LOMA Marketing Agency, we like to do things a little differently. This includes everything from the innovative ideas and solutions we bring to our events, right through to the talent we retain at the highest levels of our agency — broadening the scope of what a true leadership team looks like.
This Employee Appreciation Day, instead of chronicling the career path of your more traditional C-level roles, such as CFOs, COOs, or the C-Oh-Nos, we choose to mark the occasion by profiling the highly sought after CCO: The Chief Cuddle Officer.
Check out our exclusive interview with our trailblazing team member who has taken the emerging "cuddle" industry by storm: LOMA Marketing Agency's own Chief Cuddle Officer, Biggie Maisels.
Interviewer:
Welcome, Biggie. Thanks for speaking with us today. To begin with, can you walk us through a typical day at the office for a Chief Cuddle Officer?
Biggie:
When I'm not working remotely, I usually get into the office just before 9am each day. I like to arrive before the rest of the team so that I can scramble to the door and greet them with my signature bark, happy dance and sometimes kisses. I think it really sets the tone for the day.
On Mondays specifically, we have our all-staff morning huddle to review the priorities and projects for the week. As the CCO, my role is more emotional than practical so I tend to let everyone else have the floor while I meander from seat to seat, or lap to lap, depending on where I feel I'm most needed. I can't say I'm always aware of what they're talking about, but if I ever feel I'm losing focus, I simply choose a colleague to stare at intensely and eventually their heart will melt and all of the attention will be on me again. As it should be.
On occasion, we may encounter visitors throughout the day. Everyone from couriers, to vendors, to friends in neighbouring offices. We ensure safety protocols are in place by having our guests knock first and wait outside, and the rhythmic tapping on our door — no matter how light — always perks me right up. So much so that you can always count on me to deliver a shrill howl so piercing that each guest is well aware of who's in charge around here. I like to think I double as security.
By lunch I'm usually pretty wiped and I have one of my handlers pick me up so that I can associate with some of my peers from the Cuddle Industry in a nearby park.
Interviewer:
So you only work half days?
Biggie:
Well "work" is subjective. Is panicking when my human steps outside to grab a coffee or attend a meeting without me work? Is eating small pieces of paper or plastic from the ground throughout the day work? Is opening and closing the boardroom door loudly during conference calls work? I would say yes. And I do all of these things more than anyone else on the team, so a "half" day isn't really accurate. It's a full day of work by the time I leave.
Interviewer:
Okay fair enough. Did you always know you wanted to be a Chief Cuddle Officer or were there other roles you had your eyes on in the past?
Biggie:
Not always, no. I used to have dreams about chasing my own tail and I always thought that's how I would be spending most of my day. However, once I saw the joy that my mere presence and attention brought to others, I knew I found my calling.
Interviewer:
What would you say differentiates you from other Chief Cuddle Officers out there?
Biggie:
I think I provide an element of surprise that most CCOs don't. For example, I could be perfectly content and half-asleep on your lap one moment, but the second I hear a car door close gently down the block, I'm up and on my feet so fast you're going to hope your coffee's got a lid.
I also don't play favourites. I am just as eager to greet and cuddle each and every one of my colleagues every day, I don't even need a treat. But there is a special jar in the kitchen with my name on it
Interviewer:
Sounds like it's a dream job. Are there any downsides to being a CCO?

Biggie:
Well if I'm being completely honest, it isn't all sun naps and liver treats. Part of being a Chief Cuddle Officer means being the cutest employee which is a blessing and a curse. I'm often being dressed in mini-sweaters, jackets, Halloween costumes, etc. My team love seeing me all gussied up on whatever seasonal couture they've discovered online, but for me it is NOT fun.
I prefer a natural look. I can tell that it's just something I need to get used to, however. With my birthday quickly approaching, I'm certain there's a celebratory hat my human just can't wait to get on me.
Interviewer:
What advice do you have for other young pups with CCO aspirations?
Biggie:
Be yourself. If you like to make a scene every time you see a familiar face, make a scene. If you want to take your treats and eat them in a very specific corner and in a very specific way, you do you. If you want to make a fuss about going outside and then avoid being leashed, THAT'S OKAY TOO.
At the end of the day, if your cuddle game is strong and your face is squishable and sweet, there's nothing that will stand in your way of rising up through the ranks to be the CCO of your company too.