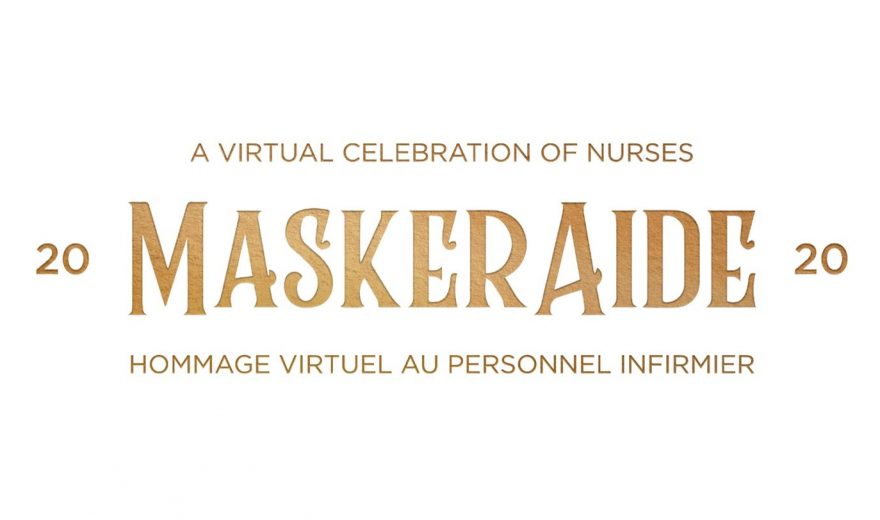 January 13, 2021
Canadian Nurses Foundation 10th Annual Fundraising Gala Goes Virtual
The Canadian Nurses Foundation supports world-class Canadian health care by raising funds to advance nursing knowledge and research, and by recognizing professional merit in Canada's nurses.
The annual CNF fundraising gala usually takes place in-person in Ottawa, welcoming 500 guests to acknowledge nursing heroes and raise funds for their various programs.
2020 marked their 10th year hosting this special evening, but the pandemic forced the foundation to cancel the in-person gala and begin discussions on hosting the event virtually.
With the World Health Organization marking 2020/2021 as the Year of the Nurse and Midwife, and the pandemic continuing to take its toll on healthcare workers, it was clear that now more than ever nurses needed support nationwide.
In August 2020, LOMA Agency was awarded the opportunity to produce the CNF's first ever virtual gala experience.
We immediately got started building a program that would allow guests to still have an immersive experience while achieving the event goals: to thank and celebrate nurses and frontline workers and raise funds for the CNF COVID-19 Fund and Foresight 2020 campaigns.
THEME: CNF Nightingale MaskerAide – A Virtual Celebration of Nurses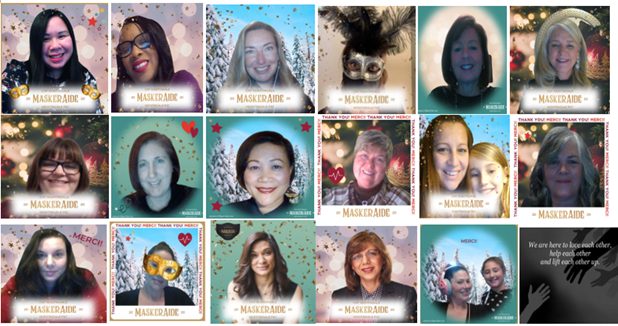 The CNF Nightingale Gala was originally named to pay homage to Florence Nightingale, the founder of modern nursing. As 2020 would mark her 200th birthday, we wanted to reinvent the gala theme for the virtual realm, while still ensuring to maintain her presence.
Additionally, with masks playing such a huge role as a first line of defense in protecting oneself and our communities, we felt it was also important to incorporate them somehow into the gala to mark such a crucial year for nurses.
And so, flipping the traditional Masquerade on its head, the Nightingale MaskerAide was born, a play on words that perfectly communicated the CNF's goal to create an evening that would raise money to aid nurses nationwide.
Leveraging a virtual photobooth, guests had the opportunity to take photos of themselves enjoying the evening and personalize their photos with various backgrounds, stickers and masks, and then share their photo on social media tagging #cnfmaskeraide.
PROGRAM LINEUP: Featuring Canadian headliner, Serena Ryder!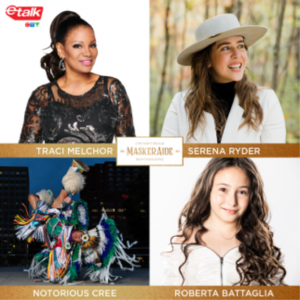 It was clear that come December 3rd (when the event was scheduled to take place) that everyone would be experiencing virtual event fatigue, and so we wanted this experience to be different.
The event took place from 7:30pm-9pm EST, with "doors" opening at 7:30pm and the main program capped to one hour. Providing access to the event portal 30mins prior to show time allowed attendees to login and get familiar with the virtual environment before the program began at 8pm EST.
Since going virtual allowed us to reach a national audience, it was important to consider various time zones. Our 7:30pm EST start allowed attendees on the West and East coasts to participate at reasonable hours in their respective regions.
Thanks to our media partner ETALK, we had the lovely Traci Melchor host the evening and she was incredible. We can't stress this enough: having a professional and talented host is key to keeping your gala program flowing and on track!
The hour incorporated live and recorded performances by Serena Ryder, TikTok superstar Notorious Cree and AGT Finalist Roberta Battagalia. We also had messages from premiers and ministers nationwide, and live interviews with five special nurses who were nominated via the #ThankANurse campaign we had leading up to the evening. We then recognized all of the over 100 nominated nurses with a special slideshow underscored by the Claps that Count soundtrack.
VIRTUAL PLATFORM: An Immersive Experience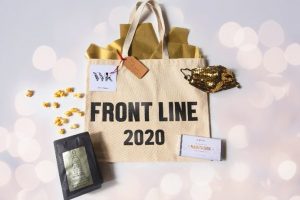 After evaluating various technology for the Nightingale MaskerAide, we partnered with vFAIRS to create an immersive gala experience where attendees would be able to not only view the main program, but also access various event components throughout the evening, including live chat, a virtual photo booth, and sponsor activations; downloadable resources and an on-demand recording of the event were available for 30 days post-event to maximize the experience.
Attendees needed to register and purchase a ticket to access the event on December 3rd. Ticket packages ranged from $50 for students through to $3,500 for organizations seeking to accommodate group sales.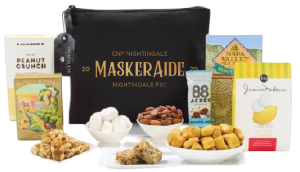 There were also packages that allowed attendees to either receive a snack bag in advance to enjoy alongside the gala or a celebratory swag bag with special items such as a gold sequin mask handmade by a Toronto designer.
On the big night, all attendees had to do was login to the event using the email address they used to register, and they immediately would see the virtual grand entrance to the event. Once inside the atrium, they were greeted by a welcome video from CNF CEO Christine Rieck Buckley, which helped to set the tone for the evening.
From there, in addition to the main stage, attendees could now take advantage of the allocated time to explore the Sponsor Networking Lounge, which was host to booths from top tier sponsors such as Johnson & Johnson with offers and information on their products/services; and the Networking Lounge, which provided access to the virtual photobooth, silent auction, various social media channels, and of course, the chat room.
The chat room allowed attendees to chat one on one or within a channel, as well as call one another using audio and/or video during the event.
Below is a video that allows you to experience the virtual gala environment in 60 seconds!
VIRTUAL GALA SUCCESS: Highlights from the evening
We were honoured to be able to produce this event for the CNF and are thrilled to share some key highlights from the evening:
We had 600+ attendees from across Canada, creating a national stage for the CNF for the first time in our gala's 10-year history
We recognized over 100 nurses nationally, as part of our #ThankANurse campaign
#CNFMaskerAide was trending in the top 10 on Twitter Canada
We received over 15-million media impressions as part of our national media campaign and partnership with ETALK Canada
Our audience was actively engaged throughout the entire event, particularly in our networking lounges and virtual photo booth
Everyone enjoyed performances from TikTok superstar Notorious Cree, Canadian icon Serena Ryder, AGT finalist Roberta Battaglia and the evening was extra special thanks to our lovely host, Traci Melchor.
Fundraising goals were met to support their COVID-19 Fund and Foresight 2020 Campaigns and other programs.
Thank you to program sponsors for all of your support and to all those who attended and donated!