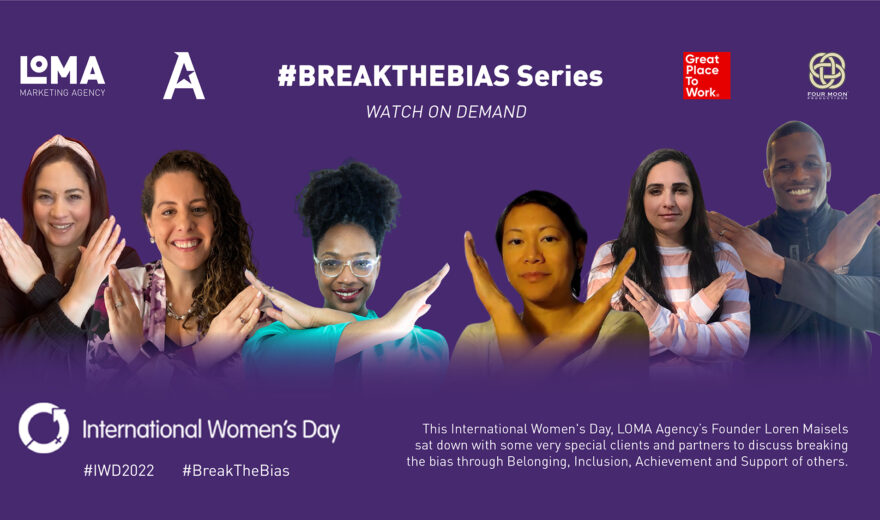 March 24, 2022
2022 International Women's Day Series – #BreakingTheBias
By: Kurt Mungal
The 2022 International Women's Day (IWD) theme is a rallying call to #BreakTheBias—and not just imagine—but actively create a "gender equal world." The campaign recognizes that bias is both deliberate and unconscious, and challenges us all to call out biases when we see them—be it in the workplace, in our communities, in learning institutions, at home or elsewhere.
At LOMA Marketing Agency, we stand in solidarity with the values communicated in the IWD #BreakTheBias campaign and continue to create spaces for our staff, partners, clients, and attendees that are diverse, equitable, and inclusive. That's why, this year, we decided to keep the conversation going by launching our own online series tackling four key topics related to the #BreakTheBias theme, including:
Belonging
Inclusion
Achievement
Support
Hosted by our agency's President and Founder, Loren Maisels, CMP, the four-part series featured lively conversations from some of our favourite clients and partners, including:
If you didn't have a chance to catch the broadcasts live, or if you want to take a second look and share, we've included the videos below which you can also access on our Instagram page @loma_agency.
In the meantime, we've compiled a list of 5 Key Takeaways from the series that we think everyone—but particularly those in a capacity to make decisions and create change—can learn from to help build a gender equal world for all.
Create Space for Trust & Vulnerability
In our discussion around Belonging with our friends from Great Place to Work, Lizelle Festejo Hsu and Ashley Ford, we heard about how, as an organization, Great Place to Work believes that work has the power to transform society. More specifically, we learned that it's the relationships that leaders create with employees, and the relationships that people have to their work, that create a foundation of trust. On an individual level for our guests, we learned how spaces that promote trust and vulnerability can:
Enable women, of all intersections, to bring their full selves to work.
Make asking for support, without judgement, common practice.
Allow room for tough conversations to take place so that those who feel undervalued and underappreciated can speak up without repercussion.
Liberate individuals to challenge pre-existing notions around identity and allow them to show up in the world as their best (and most authentic) selves.
Finally, we had the opportunity to learn about their Diversity Equity Inclusion and Belonging (DEIB) framework which is a great tool any organization can apply to create more spaces for trust and vulnerability. The framework is broken into three main categories:
Head: Deepening the understanding of individual experiences through education, including creating a common language for teams and organizations to understand and acknowledge what needs to change to make a more equitable world.
Heart: Creating conditions for empathy, through storytelling and sharing experiences.
Hands: Addressing the "isms" in your community, whether it be sexism, racism, or ableism, among others, and looking at where there are opportunities to address these gaps.
To learn more about the GPTW DEIB framework, CLICK HERE.
Be Curious
In our next segment, we looked at the topic of Inclusion with our long-time partner and self-identified feminist, Curt Johnson of Four Moon Productions. We explored this topic within the context of the audio-visual industry—a space where women remain considerably underrepresented.
As a Black man, Curt shared that he has often looked around rooms and noticed how few people look like him in production, particularly at more senior levels. So, he has great empathy for women hesitant to join such a male-dominated industry. But he urges women everywhere who are interested in pursuing a career in AV to be bold, be curious, and chase those curiosities, because as he puts it, "The dumbest question is the one that you don't ask."
Not sure where to start? Follow the tips below as recommended by our resident expert:
Visit the International Alliance of Theatrical Stage Employees website (IATSE.net) and begin your training as part of their union.
Reach out to professionals in the industry (including Curt) and schedule an information session to get your burning questions answered.
Start local. Research community events and conferences happening nearby and ask if you can get involved.
Just do it! Begin your research and outreach right away and meet as many people as possible to begin building your network of peers, advocates, and mentors.
And of course, it goes without saying that this advice applies to any other industry or environment that struggles to be gender equal. Be bold and be curious until you find advocates in those spaces that are just as keen as you are to promote diversity, equity, and inclusion.
The Importance of Community & Mentorship
We would not have been able to adequately delve into the topic of Achievement, without one of our favourite Achievers, Vanessa Brangwyn. In this segment Vanessa shared the worst advice she's ever received after disclosing to colleagues that she was going on maternity leave, which was: lower your expectations for your future career growth. Fortunately for Vanessa and her organization, she did not take this advice and went on to apply for (and accept) a leadership role within the organization. However, as Vanessa shared with us, it involved getting over her imposter syndrome and leveraging the trust that others had in her to give her the confidence boost she needed to push forward.
Here's what you need to know from our conversation with this awesome A-Player:
When you're thinking about whether you're good enough to do something, and your self-talk is filled with all the reasons why you're not, ask yourself: Why not me?
Have people who can throw your own advice back to you by telling you to try saying those things to yourself and see where that might get you.
Finding people who accept you for who you truly are is paramount to your ability to be successful and to feel successful.
Resilience, grit, and hustle; all those things matter, but nothing matters more than taking care of each other.
Vanessa is also the executive sponsor for the Achievers Women's Network, an employee resource group focused on making the workplace better for everyone, which also led to the development of the Achievers Mentorship Program (AMP). As Vanessa explained, there are so many benefits to both being a mentor and a mentee; and while men may outpace women in leadership positions two to one, mentorship programs are almost equal in gender or outpaced by women. So if you're in a position to be a mentor but haven't taken the leap, this may just be your sign it's time to start.
Encourage Diversity of Thought
The final segment in our four-part series centred around the topic of Support. We had the great pleasure of chatting with the lovely Bianca West of Achievers, who has been instrumental in developing and supporting employee resource groups (ERGs) as part of the organization's DEI Committee and ERG Alliance. As Bianca shared with us, ERGs are a great way to foster community within organizations and see support thrive. She also spoke passionately about the importance of bringing in different identities and diverse experiences to the table when building a new ERG (or modifying an existing one).
Here's what Bianca wants you to know about starting your own ERG and promoting diversity of thought:
You don't have to boil the ocean. You can start with one thing, do that well, make it your brand and evolve over time.
Know what's in it for you, personally. When your work recharges you, it doesn't feel like work.
Make sure that the people to the left and to the right of you have different perspectives than yours.
Be comfortable not knowing everything. There's no ego in the work.
Have conversations with subject matter experts and the people who identify as part of the groups you'd like represent.
Ready to start your own ERG? Talk to your HR business partner and develop a plan that makes sense for you and the needs of your organization.
Pay it Forward
In almost every interview, our guests shared the importance of paying it forward.
Vanessa Brangwyn stated that women in leadership should not just be demanding a seat at the table, but when they get there, they should pull out the chair next to them and invite someone else—no matter what their gender identity—to sit down and bring their thoughts and perspective to the discussion.
Curt Johnson let us know that every time he gets the opportunity to go through a new door, he makes sure to hold that door open for somebody behind him; be it somebody of diverse culture, race, religion, or gender.
Ashley Ford shared that she's been given such grace and leadership from people that supported her, and it's led her to ask: How can I do the same?
What are some ways you can pay it forward in your workplace, community, school, or home? Or how have the efforts of someone else before you contributed to your success? Tag us @loma_agency and share your own story.
At LOMA, we believe that it takes time to #BreakTheBias, but it only takes a moment to decide to commit to change. Our hope is that you'll continue the conversation in your own communities and join us and so many others in building a gender equal world for all.