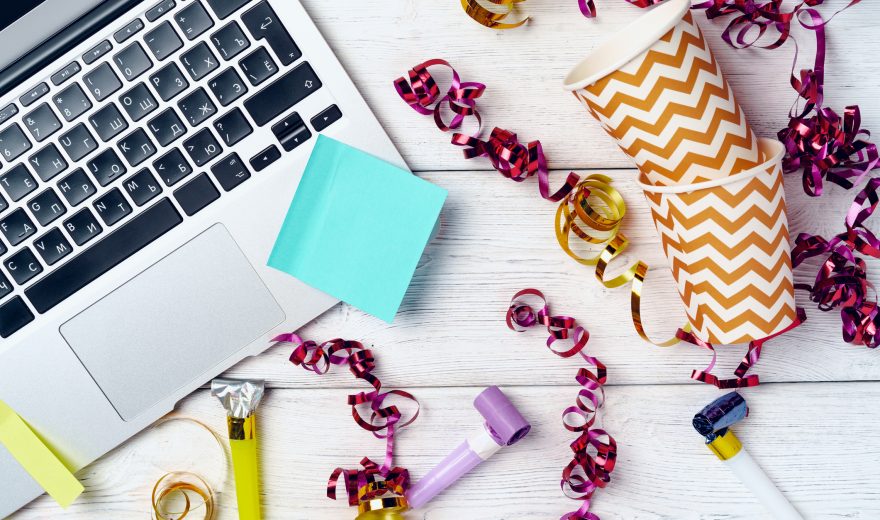 November 2, 2020
2020 Virtual Holiday Celebration Ideas
The 2020 holiday season may look different for your organization, but there are still reasons to celebrate! You and your teams have undoubtedly been working overtime this year, facing the added challenge of adapting to a new work structure, environment and routine. The juggling act of trying to maintain a pre-pandemic work-life balance under these new and uncertain circumstances is not easy; taking care of one's physical and mental well-being, while attempting to maintain productivity levels, is something to be recognized and acknowledged.
Our team has been supporting various virtual events and have compiled some ideas for you to consider when planning your upcoming virtual holiday celebrations.
1. There's Always Time For Happy Hour – Morning or Evening!
Usually, your planning routine may have involved selecting a caterer and venue to host your company holiday party. Fortunately, many catering companies have pivoted to provide individually assembled meal kits or charcuterie boards for your team to enjoy from home.
Paired with a wine or cocktail kit delivery, you have the makings of a classic happy hour.
Interested in a more interactive event? Consider inviting mixologists like Barchef to walk your team through a professional cocktail workshop! Pair the workshop with a shipped cocktail kit, or share an ingredient list in advance of the event, that way everyone will be able to have all ingredients on hand to follow along with the program.
Don't forget to ensure you have non-alcoholic options and recipes for those that do not/cannot consume alcohol.
An alternate option is to treat your team to a morning coffee tasting where they learn to brew the perfect cup of joe while engaging in some fun coffee-based trivia.
A great way to kick off a workday morning!
2. Use Your Holiday Budget to Give Back
If your organization typically supports a charity throughout the year, this holiday season may be a great opportunity to focus your celebration on giving back to those that need it most! Many non-profits have found themselves struggling to meet demands this year due to the pandemic with increased needs for food banks and healthcare services.
Our team at LOMA Marketing Agency are thrilled to be partnering with the Canadian Nurses Foundation to produce their annual fundraising gala, the 2020 CNF Nightingale MaskerAide – which is going virtual on December 3rd for the first time in its 10 year history!
Buying tickets for your teams to attend a virtual fundraiser event like the one the CNF is hosting will help redirect your holiday celebration budget to a good cause, making a difference in your community while also providing your team with access to an exciting event program.
3. Team Building & Networking Activities
Looking to drive deeper connections and foster interaction between team members? Consider a virtual team building experience.
There are a number of companies that specialize in hosting virtual party games, such as Trivia, Jeopardy, and Family Feud, or even virtual Escape Rooms.
Each of these activities can help inspire teamwork and communication amongst participants, especially if you have recently added new employees to the team who have yet to meet their colleagues in person.
4. The Gift Exchange Lives On
Just because you won't be gathering in person, does not mean you can't facilitate a gift exchange. And no, we don't mean gift cards.
Use an online name generator to draw names! Decide whether you want to send cards or gifts, and have each participant send a thoughtful item with festive well wishes to their recipient.
Schedule a time for everyone to get together virtually and open their gifts on video, revealing who had who and what each team member received through the exchange.
5. Virtual Paint Night
Unleash your inner Van Gogh by hosting a virtual paint night! Have the required art supplies (i.e. an easel, canvas, paint, paint brush) with add-ons such as a bottle of wine and/or snack pack sent to participants in advance of the event. This way everyone is prepared the night of to follow along with a professional artist's step-by-step instruction.
Your attendees will be left with their own piece of art as a souvenir and the shared experience will foster connection amongst the team.
6. Watch Party & Chill
If your holiday celebration has traditionally included your employees' families, you can continue to do so by setting up a live Netflix Party viewing of a family-friendly festive movie!
Have the team vote for a film and time to watch it in advance so everyone can watch together from the comfort of their own homes.
An added bonus? Send them a movie watch-party kit with classic theatre treats and popcorn. While the movie plays, everyone can chat virtually to make the experience more engaging. You can even host a trivia contest post-movie to up the stakes.
7. Team Recipe Book
Knowing that holiday gatherings may look very different this year, bring your team's traditional holiday recipes together for the group to share in a unique collection. Have participants submit their favourite holiday recipe and assemble them in a custom cookbook that can be sent to everyone.
Not only can they reference these recipes for years to come, but you can bring the team together with a virtual potluck where each person recreates a different meal.
Want to level up? Offer the cookbook for sale as a holiday fundraiser!
8. Holiday Wellness
Even without the additional stress and pressure this year has created, many people experience the "holiday blues" and almost everyone can benefit from a little relaxation, community and motivation around this time of year. Encourage your team to get up and moving by hosting a virtual fitness class, or to slow down and unwind with some yoga or meditation.
Not only are these activities beneficial for your team's physical health, but their mental and emotional well-being, too. If you want to go the extra motivational-mile, consider hosting a motivational speaker workshop to inspire your team to feel their best going into the New Year.
9. New Year, New Read
As a holiday gift, select a book to send each member of your team. From fictional texts addressing societal issues, to insightful memoirs exploring personal and professional accomplishment, there has been no shortage of important literature released this year. Pick something that your team is passionate about or aligns with your organization's values and schedule a time in the New Year to chat about it.
If your group has a busy holiday season, waiting until the New Year to connect allows the festivities to extend into January. The gift of a book gives team members expecting a quieter holiday something to enjoy doing in lieu of usual gatherings and offers a chance to connect with coworkers from afar through an engaging topic of joint interest.
10. Connection By Concert
It's no secret most of us are really missing live music events. There is nothing like hearing your favorite artist's hits in person and sharing that with hundreds (or thousands) of other fans.
Why not reach out to a local musician and have them host a virtual concert! This year is as good as any to prioritize shopping local and supporting artists in your community to help smaller groups and business thrive this holiday season.
Have a larger budget? Engage with a talent agency who reps your favorite musician to see if they're available. Talk about a wow!
Not Sure Where To Begin? Overwhelmed with other priorities? We know virtual events require a lot of planning and lead time and are here to help!
Get in touch to schedule a conversation.g